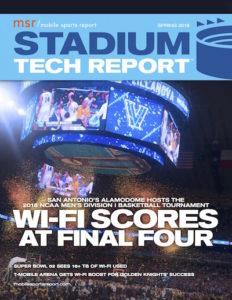 A live in-person report of the Wi-Fi network performance at this year's Final Four is just the beginning of our latest STADIUM TECH REPORT, the ONLY in-depth publication created specifically for the stadium technology professional and the stadium technology marketplace.
Mobile Sports Report traveled this spring to San Antonio, Texas, to get a firsthand look at the new networks installed at the venerable Alamodome, including one new permanent Wi-Fi deployment and another specifically tailored for the temporary courtside seats the NCAA brings in for its crown jewel event of the men's basketball season.
Download our free report to get the details on how this network was able to deliver a superb wireless experience to the almost 70,000 fans in attendance.
The report from San Antonio, however, is just the beginning of our content-rich Spring 2018 issue, which also contains another in-person review, this one of the updated Wi-Fi network at T-Mobile Arena, the home-ice castle for the NHL's newest sensation, the Vegas Golden Knights. Prompted by the team's somewhat unexpected on-ice success, the quick network upgrade is a great lesson on how to respond to fan-experience demands. And it's all explained in the STADIUM TECH REPORT.
More Wi-Fi for Vegas Knights, new construction in LA
There's also a profile of the new network that was part of the refurbishment of Minneapolis' Target Center, home of the NBA's Timberwolves, as well as a look at some innovative marketing programs combining digital signage and Wi-Fi for greater fan engagement. Our Terry Sweeney also provides a look at new venue construction and old venue remodels in Los Angeles, and we also have a full recap of the record-breaking Wi-Fi and DAS traffic at this year's Super Bowl at U.S. Bank Stadium in Minneapolis — all available for free download from our site!
We'd like to take a quick moment to thank our sponsors, which for this issue include Mobilitie, JMA Wireless, Corning, Huber+Suhner, Cox Business, Boingo, Oberon and Aruba, a Hewlett Packard Enterprise company. Their generous sponsorship makes it possible for us to offer this content free of charge to our readers.