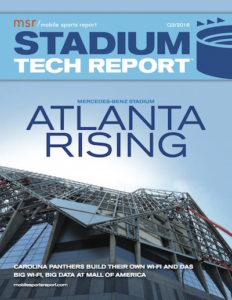 Mobile Sports Report is pleased to announce the Q3 issue of our STADIUM TECH REPORT series, the ONLY in-depth publication created specifically for the stadium technology professional and the stadium technology marketplace.
In addition to our historical in-depth profiles of successful stadium technology deployments, our Q3 issue for 2016 has additional news and analysis, including a look at Wi-Fi analytics at the Mall of America, and a story about how the Cleveland Browns found $1 million in ROI using new analytics software from YinzCam. Download your FREE copy today!
Inside the report our editorial coverage also includes:
— Bank of America Stadium profile: An in-depth look at the Carolina Panthers' decision to bring new Wi-Fi and DAS networks in-house;
— Mercedes-Benz Stadium profile: An early look at the technology being built into the new home of the Atlanta Falcons, with an emphasis on fiber;
— T-Mobile Arena photo essay: A first look at the newest venue on the famed Las Vegas Strip;
— Avaya Stadium profile: How the stadium's Wi-Fi network became the star of the MLS All-Star game.
We'd like to take a quick moment to thank our sponsors, which for this issue include Mobilitie, Crown Castle, SOLiD, CommScope, JMA Wireless, Corning, Samsung Business, Xirrus, Huber+Suhner, ExteNet Systems, DAS Group Professionals and Boingo Wireless. Their generous sponsorship makes it possible for us to offer this content free of charge to our readers. We'd also like to thank you for your interest and support.