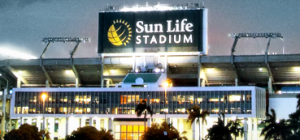 The Miami Dolphins' Sun Life Stadium and the Oklahoma State Cowboys' Boone Pickens Stadium were the top professional and collegiate venues, respectively, when it came to cellular data traffic used by fans on AT&T networks during this past football season, according to AT&T.
As a caveat we need to say that the numbers used here do not reflect all wireless data users — they only represent totals from AT&T customers at stadiums where AT&T has a DAS, or distributed antenna system, installed. Still, since AT&T is the runaway leader when it comes to DAS installations — and so far, the ONLY wireless provider willing to share stadium statistics — for now its numbers are the only ones we have, so we'll use them to award the honorary crystal iPhone trophy, or whatever top-traffic winners get.
Among NFL stadiums, Miami's Sun Life took the top average honors by a wide margin, with an average of 1 terabyte of DAS data per game. Next highest was Dallas and AT&T Stadium, with an average of 830 GB per game; the next three were San Diego's Qualcomm Stadium (735 GB per game), the San Francisco 49ers' Levi's Stadium (601 GB per game) and the New Orleans Superdome (596 GB per game). What's interesting about the top 5 is that all except San Diego also have fan-facing Wi-Fi, so even with Wi-Fi around there are still high cellular data totals.
On the collegiate side, OSU's Boone Pickens Stadium racked up an average of 769 GB per home game, pretty impressive when you consider the capacity is only around 60,000 fans. In second place was the University of Miami and Sun Life Stadium, whose network must just stay warm all the time; the U fans used an average 745 GB per game, according to AT&T. The next three highest averages were all close, led by Texas A&M's Kyle Field (668 GB per game), then Baylor's McLane Stadium (661 GB) and the University of Alabama's Bryant-Denny Field (660 GB). For more numbers see the AT&T blog post on the collegiate data season.