Editor's note: The following team-by-team capsule reports of NFL stadium technology deployments are an excerpt from our most recent Stadium Tech Report, THE PRO FOOTBALL ISSUE. To get all the capsules in one place as well as our featured reports, interviews and analysis, download your free copy of the full report today.
AFC EAST
Reporting by Paul Kapustka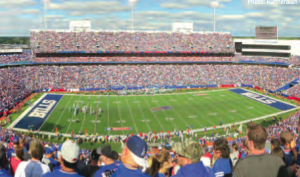 Buffalo Bills
Ralph Wilson Stadium
Seating Capacity: 71,757
Wi-Fi – Yes
DAS – Yes
Add the Buffalo Bills to the list of teams that installed Wi-Fi into their stadiums this offseason, as the Bills tapped NFL favorite Extreme Networks for a deployment at Ralph Wilson Stadium that was live for the regular-season opener against the Indianapolis Colts, a game the Bills won 27-14. The team picked Carousel Industries, Extreme Networks and Frey Electric for the deployment, which began in May this year. The Bills said the network went through beta-type testing this summer, at concerts for the Rolling Stones and One Direction, and during the Bills' preseason schedule.
By our count, this is the ninth NFL stadium to use Extreme gear for its fan-facing Wi-Fi, a signal that Extreme's preferred-supplier deal with the league is working well for all concerned. So far this season the Baltimore Ravens and the Green Bay Packers have announced Wi-Fi deployments from Extreme.
Last year Ralph Wilson Stadium had a DAS upgrade that has no doubt been upgraded again recently, so for all types of wireless communications the Buffalo fans should be well served this season as they enjoy the Rex Ryan ride.
New England Patriots
Gillette Stadium
Seating Capacity: 68,756
Wi-Fi – Yes
DAS – Yes
The defending Super Bowl champs the New England Patriots continue to make wireless connectivity a priority in Gillette Stadium, with Wi-Fi outfitted by Extreme Networks, and a team-centric Game Day Live mobile app. Unlike most stadiums, the Patriots also have RedZone channel access for mobile users, a real treat for fantasy football fans.
Miami Dolphins
Sun Life Stadium
Seating Capacity: 75,540
Wi-Fi – Yes
DAS – Yes
With more than 1,000 Wi-Fi access points, Sun Life Stadium has always been near or at the top of venues with the most Wi-Fi and DAS traffic generated. A $400+ million renovation this offseason added a host of new amenities, including field-level suites and more concessions. Sounds like it's still great to be taking your talents to a game in Miami.
New York Jets
MetLife Stadium
Seating Capacity: 82,500
Wi-Fi – Yes
DAS – Yes
There are lots of benefits to hosting a Super Bowl – including the improved connectivity of your stadium. After AT&T and Verizon spent over a year outfitting MetLife Stadium with their own DAS deployments before Super Bowl XLVIII, the stadium saw a 60 percent increase in wireless data from the previous Super Bowl. With more than 850 Wi-Fi APs, MetLife is covered when it comes to wireless.