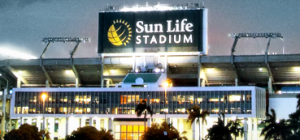 We're a couple weeks behind in catching up here, but it's worth backtracking to look at a huge weekend of DAS traffic at Miami's Sun Life Stadium that took place earlier this month. According to DAS traffic figures from AT&T, the two games held at Sun Life on Nov. 13 (Miami Dolphins vs. Buffalo Bills) and Nov. 15 (Florida State vs. Miami) generated a total of 2.735 terabytes of traffic on the AT&T-specific cellular DAS in the stadium — a pretty high mark for cellular-only traffic.
Since we know there's also a high-capacity Wi-Fi network at Sun Life, it's interesting to wonder how much total traffic there was for the two events. While we wait to see if the fine folks who run the stadium network will eventually provide us with the Wi-Fi details, we can drill down a bit more into the DAS numbers that AT&T is seeing across the largest stadiums this fall.
The two games in Miami that weekend were the tops for DAS traffic in both college and pro for AT&T networks, which according to AT&T is the first time one town has held the DAS crown for both spots. The FSU-Miami game, where the Hurricanes kept it close to the end, was the biggest single DAS traffic event of that weekend, college or pro, with 1,802 GB of data crossing the AT&T DAS network. What's kind of stunning is to remember that these stats are for AT&T customer traffic only; full game traffic from the 76,530 in attendance at the FSU-Miami game was likely much higher but alas — we get no such comparable stats from other cellular providers.
Other big games between highly ranked teams also scored high in AT&T's DAS rankings that particular weekend — Alabama's home win over then No. 1 Mississippi State was second on the list with 849 GB of DAS traffic, while Georgia's win over visiting Auburn that Saturday recorded 676 GB of DAS traffic.
On the pro side, the second-highest AT&T DAS traffic came interestingly from San Diego, where the Chargers eked out a 13-6 win over the Raiders. We're wondering if the DAS mark from San Diego — 730 GB, which trailed only Miami's Thursday night mark of 933 GB in its win over Buffalo — was higher because Qualcomm Stadium still doesn't have Wi-Fi. And again, remember that traffic at some other stadiums might have been higher — these numbers reflect only AT&T stats from venues where AT&T has an operating DAS.
Stay tuned as the football seasons come to their conclusions — with any luck we'll get some more DAS and Wi-Fi stats to get a more complete picture of stadium traffic this season, which — surprise! — seems to be continually growing. Verizon, Sprint and T-Mobile… lend us your stats!