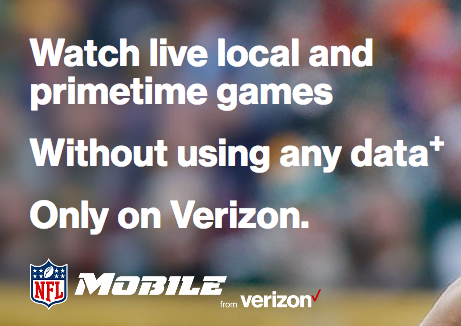 Are you ready for football? And are you ready for cellular company wars around viewing football on your phone? Verizon kicked off the 2016 NFL season with an announcement Friday that it would no longer charge its customers for data used while watching live NFL games via the NFL Mobile app, perhaps the biggest sign that the battle we predicted is now fully underway.
From our perspective, some of the most-read stories in Mobile Sports Report history have been posts wondering about how much data customers might use watching a live football game on their phones. The answer now, for Verizon LTE customers, is easy: It's zero. You will still need to pay $1.99 a month this fall to watch RedZone on your phone (to us, RedZone is even better than specific live games), but watching the live local and national-broadcast games (like Sunday night games and Monday Night Football) won't chew up any of the gigabytes in your data plan.
Whether or not this type of "free programming" will spark any net neutrality debate is best left for other outlets, though it's hard to think of a type of programming more popular than live NFL action. In the meantime, our guess is that the wildly popular NFL Mobile app (Verizon never releases figures on how many users it has for NFL Mobile, but if you start your guessing between 5 and 10 million you might not be far off) will get even more popular, and the promotion should help sell a lot of fence-sitters this weekend on buying with Verizon, just to get even the app's limited NFL schedule for basically free.
The promotion may not even cost Verizon much when it comes to minutes, since many NFL Mobile veterans I know (some of whom are already tweeting in agreement to the next statement) almost always seek a Wi-Fi connection when they are streaming NFL Mobile games, because better bandwidth and no data charges. But it's a hell of a selling point and one we kind-of predicted when we foresaw cell-phone NFL battles between Verizon and its NFL Mobile deal and AT&T's new ownership of Sunday Ticket thanks to its DirecTV purchase. Too bad the user numbers aren't ever made public, because it'd be cool to see how many fans are streaming NFL action live on their phones.
We still haven't been able to get an answer from the NFL or Verizon on another rumor we heard this summer, that RedZone action would be available for free to any fans inside NFL stadiums on game days. Many stadiums already have that ability via apps built by YinzCam, which has a rights agreement with the NFL to allow RedZone viewing in some stadiums. Maybe MSR readers across the country could chime in on whether or not they can see RedZone at their stadium, and we can crowd-source a list. Or we could all just watch more football. Stay tuned, because it's our guess that this won't be the last you hear on this front this season.
Remember: You can't watch NFL Mobile live games on your tablet, because Verizon's rights package only includes cellular phone-type devices. And be prepared for service to suck this Sunday, because these opening-day things never seem to work out for Verizon and the NFL. Don't say you weren't warned!