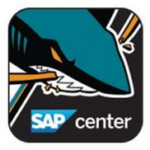 The San Jose Sharks announced today a raft of upgrades to their stadium app, including a feature that will allow fans to toggle through four separate modes of functionality, for Sharks games, SAP Center events, minor-league hockey info and information about the Sharks-associated public skating rinks in the area.
Now called the San Jose Sharks + SAP Center app, the mobile-device program developed by VenueNext and Adept Mobile will bring to life some previously mentioned services for Sharks fans, including the ability to order Sharks merchandise and in-stadium "experiences" — like purchasing a message on the big video board — directly from the app.
Other new features include live audio broadcasts of Sharks games and games for the
AHL's Barracuda
; augmented reality experiences; and a message preference and inbox feature that will allow fans to self-regulate the frequency of in-app communications with the team.
The ability to toggle between different versions of the app — say, for Sharks hockey games or for a concert at SAP Center — is a feature finding its way into most stadium apps these days, including VenueNext's app for the San Francisco 49ers and Levi's Stadium. The Sacramento Kings have a similar two-apps-in-one strategy for the team and for Golden 1 Center, in an app developed by Built.io.
For fans, it's a way to have all the arena-going information in one place, while for the teams and venues it's a way to keep current customers informed of all the associated businesses. (On its face the feature sounds like a smart idea, but so far we haven't seen any metrics from any teams showing proof that it is really working for either fans or teams/venues.)
Putting the ability to order experiences like big-screen messages (just $75!) or visits from the Shark's toothy mascot into the app seems like a good idea, since those actions can now be acted on in the moment instead of having to plan far ahead. And for fans who like to hear play by play either at the rink or at home, having team audio is a great feature and alternative to radio.