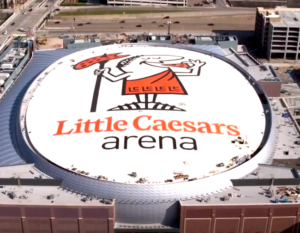 Comcast Business has signed up as the Internet bandwidth provider for the soon-to-open Little Caesars Arena in Detroit, as part of an $11 million capital expenditure deal that will also bring assorted voice, video and other services to both the new arena and the surrounding "District Detroit."
According to a press release from Comcast Business, the service provider will bring two 100-gig circuits of bandwidth to the arena, the new home of the NHL Detroit Red Wings and the NBA's Detroit Pistons. Set to open on Sept. 12, the new venue will have more than 1,000 Wi-Fi APs in the arena and in "surrounding buildings and event spaces," according to the Comcast release.
Comcast has a similar arrangement with the Atlanta Braves and their new home, SunTrust Park, as well as with the surrounding live/work environment there, called The Battery Atlanta. In a report in Crain's Detroit Business, a Comcast exec said the Detroit deal was taking such sponsorships "A whole 'nother step further," adding that the District Detroit area is much bigger than the Battery's footprint.