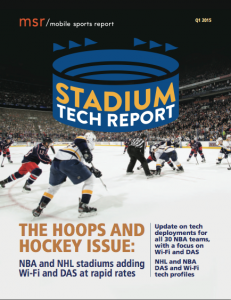 So who needs a league-wide stadium networking strategy, anyway? Neither the NBA nor the NHL has such a beast, but it doesn't seem to be stopping the deployment of fan-facing Wi-Fi services that now reach almost every NBA arena and almost two-thirds of NHL venues.
That's one of the main themes explored by our latest STADIUM TECH REPORT, the HOOPS AND HOCKEY ISSUE, now available for free download from our site. If you're new to our site, our quarterly long-form reports are designed to give stadium and large public venue owners and operators a way to dig deep into the topic of stadium technology, via exclusive research and some profiles of successful stadium technology deployments.
We'd like to take a quick moment to thank our sponsors, which for this issue include Mobilitie, Crown Castle, SOLiD, CommScope, TE Connectivity, Extreme Networks, Aruba Networks, and JMA Wireless. Their generous sponsorship makes it possible for us to offer this content free of charge to our readers.
In this issue we take a look at NBA and NHL arenas, with profiles on how some of the leading teams and stadium owner/operators are using technology to improve the fan experience, even without a stated, public direction on stadium technology from their respective leagues. What did we discover? First, that the lack of such strategies may not be such a bad thing, with 24 out of 29 NBA venues and 19 out of 30 NHL venues all offering some comprehensive form of free fan-facing Wi-Fi.
And while the lack of a single strategic direction also means there's a bit of chaos when it comes to picking technology or building a team app strategy, we also think that scramble could also be a bonus right now, providing more choice and competitive pricing as the industry starts to grow as a whole. Inside our 40-page-plus issue you'll find four in-depth profiles of Wi-Fi and DAS networking deployments, and the kinds of things those deployments make possible, like greater granularity when it comes to knowing who the fans are. There's also analysis on the situation from yours truly and some key thinking on DAS deployment strategies from industry thought leader Seth Buechley. Again, all this is yours for the free reading, just download your copy today!