large amounts of wireless traffic
, on both cellular and Wi-Fi networks. But as it turns out, celebrating a World Series victory can generate even more traffic, especially when the celebration includes an on-field ceremony made for fan photos from the seats.
According to AT&T, Cubs fans at Wrigley Field for Monday night's home opener used 1.4 terabytes of wireless data on AT&T's cellular and DAS (distributed antenna system) in and around the Friendly Confines. That was almost 400 GB more than the biggest AT&T usage report from last fall's World Series, when Wrigley Field saw 1.006 TB of data used on AT&T networks for Game 3, the first game in Chicago.
Before the Cubs and Los Angeles Dodgers played on Monday night, there was a lengthy rain delay where a packed house of fans was waiting for the Cubs to unveil their World Series and National League pennant banners.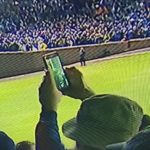 The flags, which were mounted on four poles at the back of the centerfield bleachers, became the center of attention when the entire Cubs roster still with the team from last season climbed up into the stands to each take a pull at hoisting the World Series champion banner aloft. As you can tell by the pictures we snapped off the ESPN broadcast, it was a made-for-mobile-device moment, with some lucky fans able to get up close and personal photos of the Cubs players.

After hoisting the banners the Cubs players emerged from the tunnels behind the outfield walls with the World Series trophy and paraded it onto the field, again no doubt attracting more of the photos that eventually were sent over the AT&T networks. It's a lot of wireless traffic, but no doubt a problem any team in Major League Baseball would be willing to tackle each spring.

As we found out last fall, having a World Series game at your venue can generate