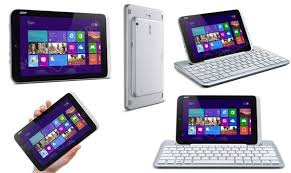 Acer has unveiled a number of new mobile devices at the annual Computex trade show this week and the products show the growing diversity in operating systems that are offered from a single company with a Windows powered tablet and an Android powered smartphone.
The company has been increasingly aggressive in its rollout of products recently and looks to establish itself alongside rivals such as Samsung and Apple as one of the top players in the smartphone and tablet space. .
The tablet is the Acer Iconia W3 which features an 8.1-ich screen with a 1280 x 800 resolution running Windows 8 operating system and features an Intel Atom 1.8Ghz Z2760 microprocessor. The tablet marks the first release of a small form factor tablet running the Windows operating system.
Reports are showing that the smaller form Tablets are starting to outsell the larger ones and it is a feather in Acer's cap that it is the first with a model that supports Windows 8. Microsoft only recently said that it would be supporting smaller size screens.
Other features include either a 32GB or 64GB of internal storage that can be expanded with the addition of optional microSD cards, an eight hour battery, dual front and rear facing 2MP cameras it will come with a pre-installed copy of Microsoft Office. It is expected to ship in June and start at $428.
The smartphone is the Liquid S1, which with its 5.7-inch screen is not that much smaller than the Iconia W3. It has a 1280 x 720 screen resolution and will feature the Android 4.2 operating system. It has a 1.5GHz processor, 1GB of memory and 8GB of storage. However it does not support LTE.
The smartphone is the company's first push into the phablet space, the hybrid smartphones with large screens that can double as a tablet.