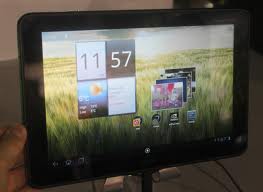 Acer is the latest to being a quad-core tablet to the American market with its release of the Iconia Tab A510 tablet, a device that should be well positioned to function as both a work and home entertainment device.
The Acer Iconia Tab A510 is a special Olympic Games Tablet Edition of the Acer Iconia Tab line that will include the Olympic logos on the chassis to celebrate the company's sponsorship of the upcoming 2012 Olympic Games.
The heart of the 10.1-inch tablet is the Nvidia quad-core Tegra processor that is touted as having a fifth, battery-saver core that is designed to help handle low-power tasks like active standby, music, and video, and is transparent to the OS and applications. In active use the four cores handle activities such as video streaming, music and a host of other activities. In addition the tablet uses an Nvidia performance 12-Core GeForce graphics processor.
The tablet features the Android 4.0 Ice Cream Sandwich operating system and comes with a 10.1-inch capacitive screen that features 1280 x 800 resolution and supports 720p video. It also includes Dolby Mobile 3 audio. The company claims that the use of the Tegra processor enables the tablet to be able to support 12 hours of video playback.
Other nuts and bolts of the Acer Iconia Tab A510 include 1GB of RAM, 32GB of storage that can be doubled using a 32GB Micro Card. It includes a micro HDMI port for streaming video and features a micro USB 2.0 port. It has both Wi-Fi and Bluetooth and has a 1MP front facing camera as well as a 5MP rear facing camera.
I think that Acer is smart in trying to position the A510 as a business tool as well as a top entertainment device. It includes a comprehensive suite of productivity apps so that a user no longer has to worry about using the tablet as a tool at meetings or just away from the office.
The key to this is inclusion of the full suite of Polaris Office 3.5, a software package that is compatible with Microsoft Office and allows reading and editing of various document formats for mobile devices. It also includes Acer Print, so customers have a convenient and seamless way to print wirelessly from their tablet and includes HDMI to VGA support for quick connection to projector for business presentations.
It has Evernote, a personal assistant program that enables users to capture and save web pages, photos, ideas and documents and then store them to the cloud, where they can be later accessed from a variety of devices including PCs.
This looks like a well rounded system and one that is designed to fit in more than one usage model. So many keep trying to either attack Apple or Amazon rather than seek to establish their own niche or product persona. With a starting pre-sale price of $450 it stands a good chance of doing just that.