biggest Wi-Fi traffic day
of the year.
Oh, and that DAS network you were wondering about? It should be fine too, but more on that later. On a recent game-day visit to the still-new roost of the NFL's Atlanta Falcons (and the latest MLS champions, Atlanta United), Mobile Sports Report found that the stadium's Wi-Fi network, using gear from Aruba, a Hewlett-Packard Enterprise company, in a design by AmpThink for lead technology provider IBM, was strong on all levels of the venue, including some hard-to-reach spots in the building's unique layout.
And in our game-day interview with Danny Branch, chief information officer for AMB Sports & Entertainment, we also finally got some statistics about Wi-Fi performance that should put any Super Bowl capacity fears to rest. According to Branch, Mercedes-Benz Stadium saw 12 terabytes of Wi-Fi used during the College Football Playoff Championship Game on Jan. 8, 2018, the second-highest single-game Wi-Fi total we've seen, beaten only by the 16.31 TB recorded at Super Bowl LII on Feb. 4, 2018, at U.S. Bank Stadium in Minneapolis.
"We're confident, and we're ready for the Super Bowl," said Branch about his stadium's network preparedness, during an interview before the Dec. 2 Falcons home game against the visiting Baltimore Ravens. The night before our talk, Mercedes-Benz Stadium had hosted the SEC Championship Game, where a classic comeback by Alabama netted the Tide a 35-28 win over Georgia, while fans packing the stadium used another 8.06 TB of Wi-Fi data, according to Branch.
Along with lawsuit, DAS gets 700 new antennas
Editor's note: This profile is from our latest STADIUM TECH REPORT, an in-depth look at successful deployments of stadium technology. Included with this report is a profile of the new game-day digital fan engagement strategy at Texas A&M, as well as a profile of Wi-Fi at the renovated State Farm Arena in Atlanta! DOWNLOAD YOUR FREE COPY now!
The Wi-Fi totals revealed by Branch were the first such statistics reported by Mercedes-Benz Stadium since its
opening in August of 2017
. While initially the lack of reports of any kind last fall were thought to have been just some kind of Southern modesty, MSR had been hearing back-channel industry questions about the wireless coverage in the venue since its opening, particularly with the performance of the DAS network.
Those whispers finally became public when IBM filed a lawsuit on Oct. 31 in the U.S. District Court in Atlanta, alleging that subcontractor Corning had failed to deliver a working DAS. In its lawsuit complaints IBM said that the DAS had not worked correctly throughout 2017, and that IBM had to spend large amounts of money to fix it. Corning has since countered with its own legal claims, asking IBM's claims to be dismissed.
While that battle is now left to the lawyers, inside the stadium, Branch said in December that the DAS was getting its final tuning ahead of the Super Bowl. In addition to (or as part of) the IBM DAS improvements, Branch said that an additional 700 under-seat DAS antennas have been installed in the seating bowl. In our walk-around review during the Falcons' game, MSR noticed multiple DAS antenna placements that seemed to be new since our last visit in August of 2017, during the stadium's press day.
"IBM addressed the DAS issues, and we're in a good place," said Branch. The NFL's CIO, Michelle McKenna, also gave her office's approval of the readiness of the Mercedes-Benz Stadium networks in a separate phone interview. And MSR even got to witness a live opening of the stadium's unique camera-shutter roof, another technology that ran into some bugs during football season last year but now appears to be solved.
Selfies and speedtests
So how do the networks perform at a live event? The short answer is, on the Wi-Fi side we saw steady speeds wherever we tested, typically in a range between 20 Mbps on the low side to 60+ Mbps on the high side, for both download and upload speeds. On the DAS side, our Verizon network phone saw a wide range of speed results, from some single-digit marks all the way up to 99 Mbps in one location; so perhaps the best answer is that on cellular, your speedtest may vary, but you will most likely always have a strong enough signal to do just about any task you might want to at a stadium, even on Super Sunday. All four major wireless carriers, including Verizon, AT&T, Sprint and T-Mobile, use the Mercedes-Benz Stadium DAS. And you can also expect all the major carriers to beef up local bandwidth with a combination of permanent and temporary upgrades, to ensure good connectivity throughout downtown Atlanta during Super Bowl week. Sprint and AT&T have already made announcements about their local upgrades, and we are sure Verizon and T-Mobile will follow suit with announcements soon.
Though we didn't get any tests during the brief on-field part of our tour, Branch did point out some Wi-Fi APs on the sidelines for media access. Mercedes-Benz Stadium also now has a pair of
MatSing ball antennas
perched way up near the roof openings, to help with cellular coverage down to the sidelines.
MSR started our speedtest tour in the place where most Falcons fans probably pull out their phones, in front of the metal falcon structure outside the main entry gate. Even with digital ticketing activities taking place close by and groups of fans taking selfies in front of the bird, we still got a high Wi-Fi test of 35.8 Mbps on the download side and 41.6 Mbps on the upload. On cellular our top speeds in the same area were 3.94 Mbps / 17.2 Mbps.
Just inside the stadium doors from the Falcon is what the team calls the stadium's "front porch," an extended concourse with a clear view down to the field. On the Sunday we visited there was a stage with a DJ and rapping crew providing pregame entertainment, in front of two of the stadium's more distinctive Daktronics digital displays, the 101-foot-tall "Mega Column" and the 26-foot-tall (at its highest point) triangular "Feather Wall" display, which frame part of the porch.
In the middle of a slowly moving crowd that was taking selfies in multiple directions, MSR still got good connectivity, with Wi-Fi speeds of 22.4 Mbps / 12.3 Mbps, and a cellular mark of 5.38 Mbps / 12.0 Mbps. As far as we could see, the wide-open space was being served by antennas mounted on walls on two sides of the opening.
Bridges, nosebleeds and concourses
Looking for some tough-to-cover spots, we next headed to one of the two "sky bridges," narrow walkways that connect over the main entry on both the 200 and 300 seating levels. Out in the exact middle of the 200-level sky bridge we still got a Wi-Fi test of 14.6 Mbps / 8.19 Mbps; celluar checked in at 4.07 Mbps / 4.59 Mbps.
For some more fan-friendly speeds we wandered in front of the nearby concourse watering hole, the Cutwater Spirits bar, where our Wi-Fi signal tested at 35.8 Mbps / 42.4 Mbps, and the DAS signal (directly in front of an antenna mounted above the concourse) reached 99.2 Mbps / 25.4 Mbps even with heavy foot traffic coming by.
Right before kickoff, we wandered into the top sections of the Falcons' new roost, where about halfway up in section 310 (near the 50-yard line) we got Wi-Fi speeds of 11.6 Mbps / 1.86 Mbps, and cellular speeds of 13.1 Mbps / 2.50 Mbps, during the height of the on-field pregame festivities. In that section and in others we walked around to, many fans were busy with phones during pregame, with many watching live video.
One interesting technology note: The stadium's unique Daktronics halo video board, a 58-foot-high screen that circles around underneath the roof, is partially obscured in the uppermost sideline seats. But that's pretty much the only place you aren't wowed by the screen's spectacle, which from most of the rest of the stadium offers multiple-screen views no matter where you are looking up from.
One final speedtest on the 300-level concourse saw the Wi-Fi speeds at 35.8 Mbps / 38.2 Mbps, while another one of those new-looking DAS antennas gave us a speed test of 77.0 Mbps / 21.4 Mbps. During the third quarter we visited the AT&T Perch, a section above the end zone area opposite of the entry porch where there are large displays with multiple TV screens and even some recliner-type chairs where fans can get their other-game viewing on while inside the arena. Wi-Fi in the Perch tested at 42.1 Mbps / 61.0 Mbps.
Fans are finding the Wi-Fi
Though we haven't yet seen any more detailed network use statistics, like unique game-day connections or peak concurrent connections for any events, Branch said fans are definitely finding the network. Sponsored by AT&T with an "ATTWifi" SSID, there is no landing page or portal for the network asking for any information — once fans find the network and connect, they're on.
"In the first year we didn't promote it [the Wi-Fi] heavily, because we were making sure everything worked well," Branch said. But this year, he said the team has been promoting the network in emails to season ticket holders, and with video board messages on game days. At a high school football weekend this past fall, Branch said the Falcons saw 75 percent of attendees connect to the Wi-Fi network.
"AmpThink and Aruba did a really good job" on the Wi-Fi network, Branch said. "I love it when my friends tell me how fast the Wi-Fi is."
By adding solid wireless connectivity to the host of other amenities found inside Mercedes-Benz Stadium — including fan-friendly food and drink prices that are simply the lowest you'll see anywhere — Branch said he felt like the Falcons' ownership had succeeded in creating a venue that was "an experience," where fans would want to come inside instead of tailgating until the last minute.
With the Super Bowl looming on the horizon, Branch knows there's still no rest until the game is over, with new challenges ahead. The Sunday we visited, the Falcons debuted a new footbridge over the road outside the back-door Gate 1 entry, and Branch knows there will be networking challenges to make sure fans can still connect when the NFL erects its Super Bowl security perimeter far out from the actual stadium doors.
"Our motto is be prepared for anything," said Branch, noting that there is really no template or historical model for a building unique as Mercedes-Benz Stadium.
"Sometimes it feels like you're changing tires on a car going 100 miles per hour," Branch said, only partially in jest. "But we're confident we'll be ready for the Super Bowl."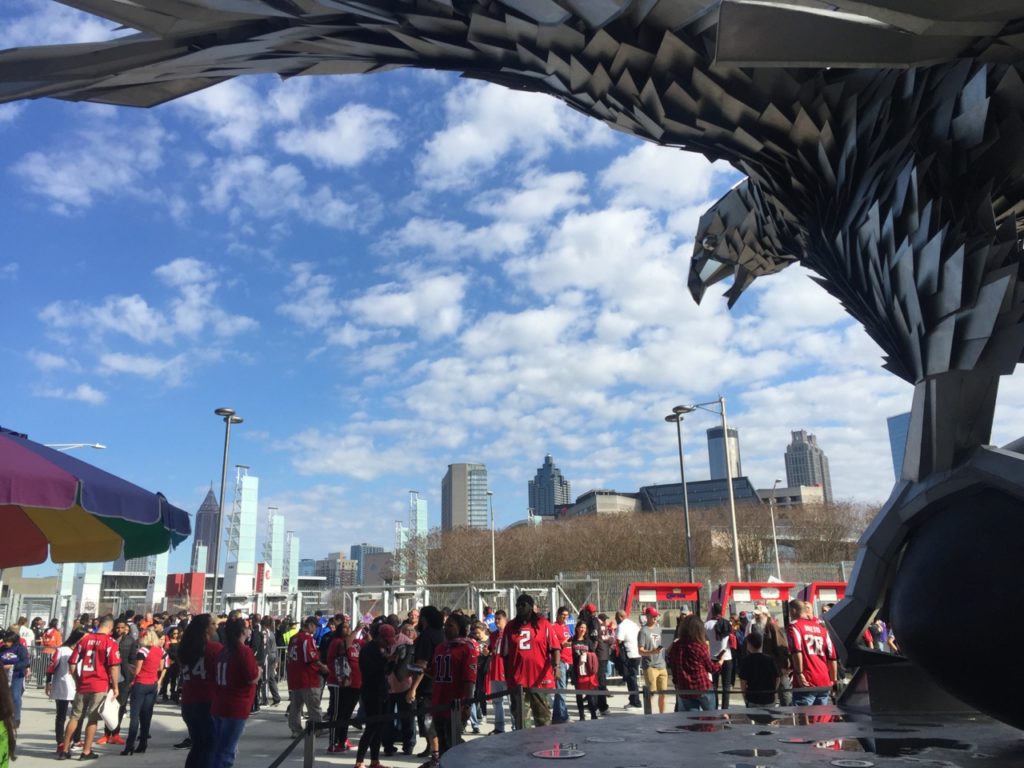 The metal falcon is selfie central for visitors new and old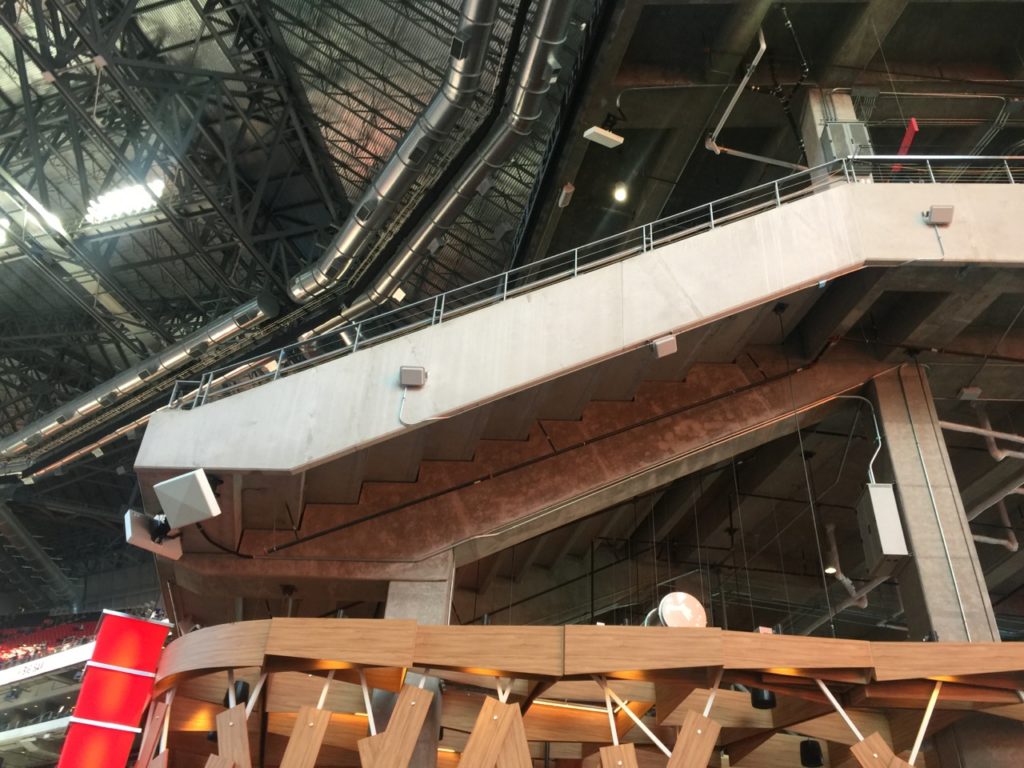 Wi-Fi and DAS antennas cover the 'front porch' landing area inside the main entry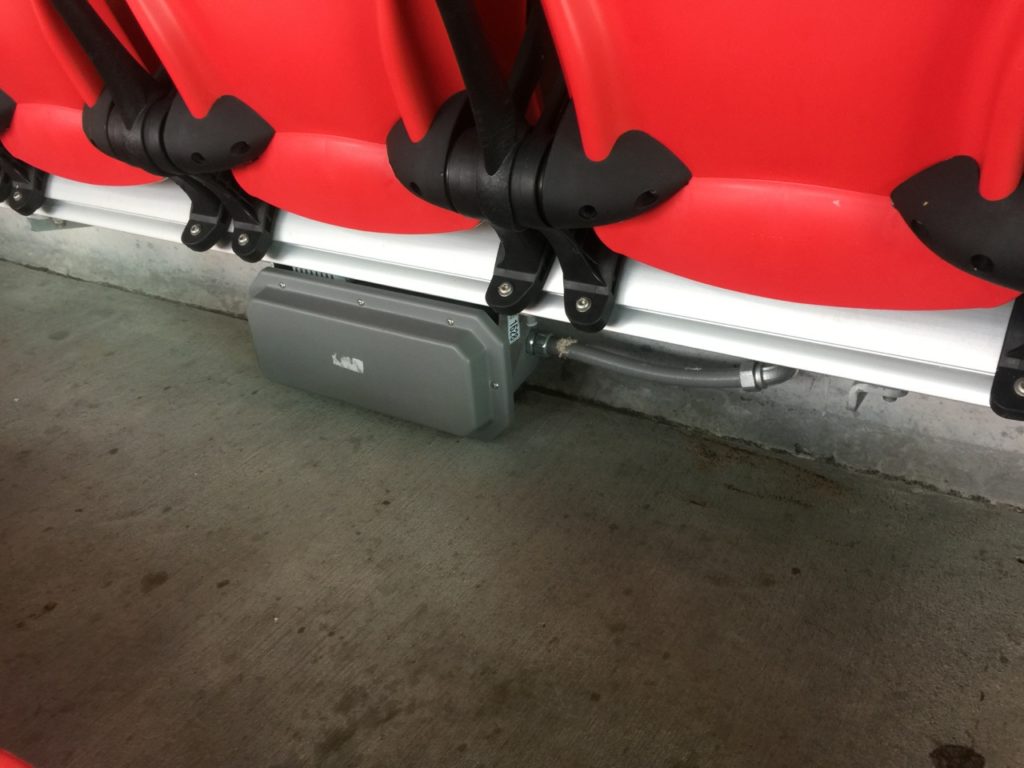 Under-seat Wi-Fi AP enclosure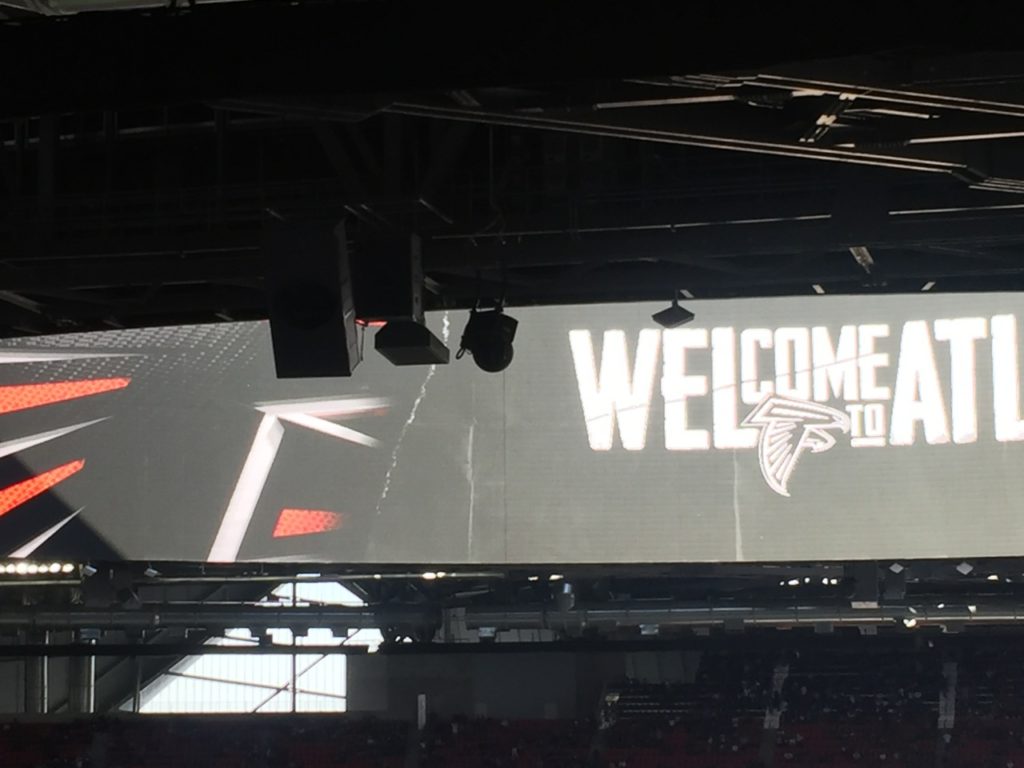 A shadowy look at one of the MatSing ball antennas in the rafters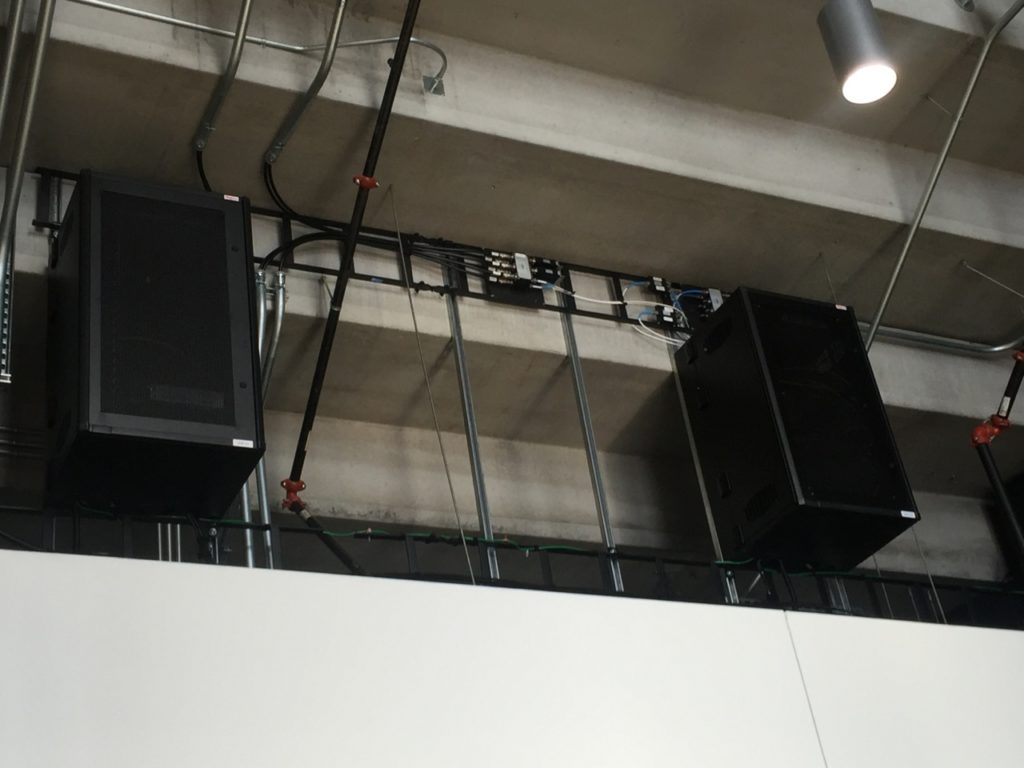 The gear behind the under-seat DAS deployments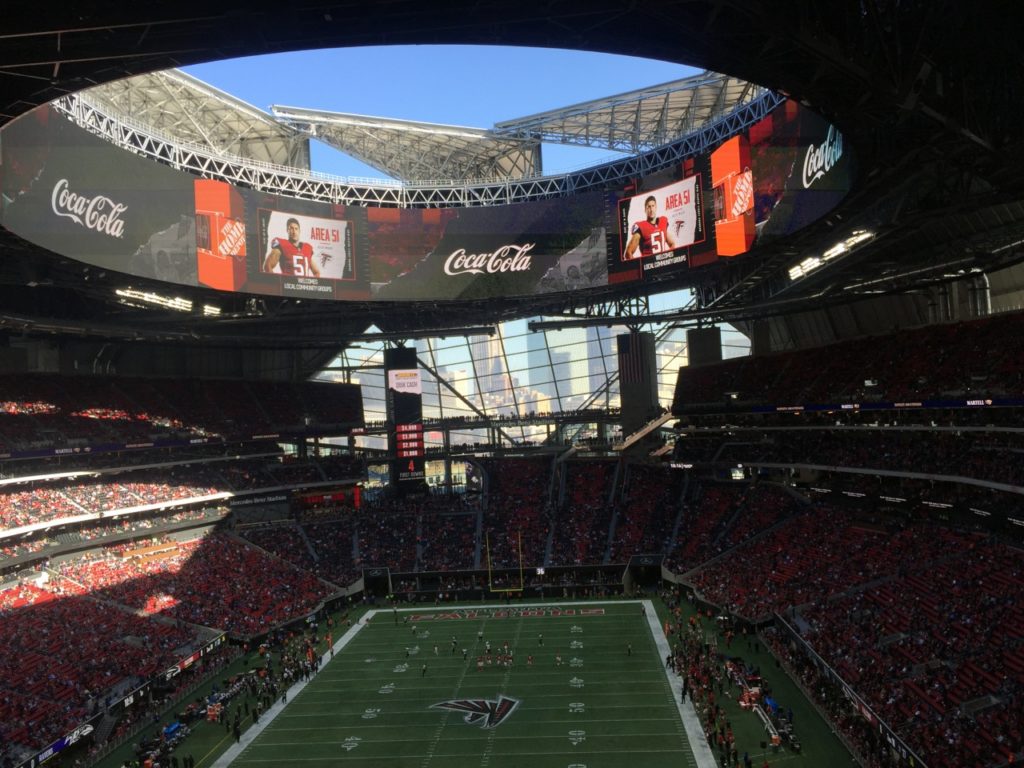 The view toward downtown

With less than two weeks to go before Mercedes-Benz Stadium hosts Super Bowl LIII, there's no longer any doubt that the venue's Wi-Fi network should be ready for what is historically the