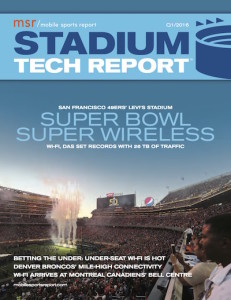 The record-setting wireless network consumption at Super Bowl 50 is one of the lead topics in our latest STADIUM TECH REPORT, our long-form publication that takes an in-depth look at the most important news of the stadium technology world, alongside some great in-depth profiles of successful stadium technology deployments. Download your free copy today!
With fans consuming 26 terabytes of wireless data — 15.9 TB on the stadium's distributed antenna system (DAS) and another 10.1 on the Wi-Fi network — the Super Bowl provided the ultimate test for the Levi's Stadium wireless infrastructure, one that the venue passed with flying colors. One unique factor of the stadium's wireless deployment, under-seat antennas for both the DAS and the Wi-Fi networks, is covered in-depth in our most recent issue, with a feature story about how under-seat deployments got started, and why they may become the default antenna placement for large public venues going forward.
Also in the issue: A profile of Wi-Fi and associated mobile device strategies at the University of Wisconsin, including geo-fencing for fan marketing at away games; a close-up look at the wireless infrastructure at the Denver Broncos' Sports Authority Field at Mile High; a profile of the new Wi-Fi network at the Montreal Canadiens' Bell Centre; and a look at some new social-media strategies deployed by the Miami Dolphins. All this information is available now for FREE DOWNLOAD so get your copy today!
We'd like to thank our Stadium Tech Report sponsors, who make this great content free for readers thanks to their support. For our Q1 issue our sponsors include Mobilitie, Crown Castle, CommScope, Samsung, Corning, JMA Wireless, Aruba, SOLiD, Xirrus and 5 Bars.