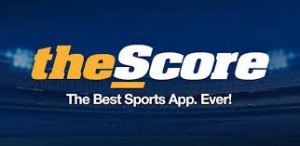 A few years back there was a steady stream of sports apps from small, independent developers all seeking to establish themselves in a niche and grow (or be acquired) to become one of the go-to programs for sports fans.
Fast forward a few years and the first wave has sadly mostly died off, victims of a variety of issues from over completion in their selected market, underfunding, well funded rivals, delivering an overall poor app and a host of other issues, so it is always nice when somebody breaks through to a new level.
One that has done that is theScore which has not only has stayed in the game but is now in a position to increase its exposure and enhance its platform with the influx of $15 million in venture funding that is expected to close in mid-May.
The private round already has a number of investors announcing their intention to participate including Levfam Holdings Ltd., Relay Ventures Fund II L.P. and Relay Ventures Parallel Fund II L.P. The publicly traded company is based in Toronto.
For those not familiar with theScore's app, which is available on Android and Apple iOS devices, it is a customizable sports app that provides not only news and scores in real time but also information for fantasy teams and leagues. It tracks a huge number of sports leagues both domestic and international, along with their individual teams.
Hopefully the influx of cash will help enable the company to further establish itself as a mainstream app with broad based acceptance.