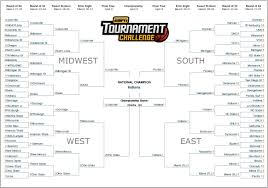 The NCAA Men's Division 1 Basketball tournament, or as it is better known March Madness, has already started but there is still time for those that wait until the 13th hour to get their act together to both follow the tournament as a fan and your bracket as, well also a fan.
First and foremost is watching and following the games and Turner Sports, along with NCAA.com and CBS Sports have simplified that by making all of the games available online, with some requirements for the viewer. You can go to the March Madness main page for more information; the key is finding the "Select TV provider" button in the upper left corner as you must have a qualifying TV service contract to watch online. The effort by Turner et al may shake up how future major sporting events are broadcast and garnered solid reviews in Fast Company. There is also a twist for the Final Four television coverage, where there will be separate announcing teams on alternative Turner channels. The SI roundup has a good description of what's going on, television-wise.
Pretty much any newspaper, blog, web site and sports channel has a contest, ranging from billionaire Warren Buffett and Quicken Loans' offer to pay $1 billion to anybody that picks all 64 winners to local office and bar pools.
The next games start Thursday and many pools allow you to enter up until just before tipoff of that round. If you are looking around for something that is not in the mainstream but will connect you to everybody that you might want to chart with, or talk trash with.
An app launching in support of the iPad in time for the tournament is called FanKave, and it functions much like you might imagine. You enter a 'Kave' for each game and can talk, both online and using voice, with friends or rivals while receiving play-by-play results. A nice feature is that from a Kave a fan can post to a variety of social media sites such as Facebook without needed to open a separate app for that.
The app supports more than simply the basketball tournament, with the NFL, NBA and NCAA football available now and MLB and FIFA World Cup 2014 expected soon. It is currently available only on the iPad platform but its developers said that iPhone and Android versions are expected soon.
A more established mobile app called theScore is also trying to make hay while the tournament's sun shines by adding a number of additional features that revolve around March Madness. Among the new features is an 'upset tracker' that uses push notification to let users know that an underdog is leading with 5:00 minutes in the game.
There are plenty of established apps as well and pretty much everybody I know has multiple ones to follow both the tournament but also teams that they are interested in. Checking out specific schools can get you apps that (sometimes) enable you to closely follow the team's progress through the tournament.