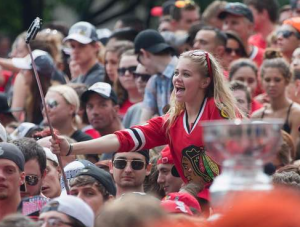 Though we didn't get a game-by-game breakdown, according to our friends at AT&T the fans for the Stanley Cup Champion Chicago Blackhawks and the NBA Finals Champion Golden State Warriors are also the respective "winners" in their sports for having finals-series games with the most DAS data use.
In a blog post outlining some stats for data usage on AT&T networks on distributed antenna systems (DAS) inside the championship venues, the Chicago fans filling United Center had the single highest DAS total for any game in either sport, with 386 gigabytes crossing the network during the Cup-clinching Game 6 on June 15. Warriors fans captured the highest AT&T DAS total for the NBA Finals with a 249 GB mark on June 7 at Oracle Arena, the Game 2 overtime loss to the Cleveland Cavaliers. Remember, these totals are only for AT&T customers on AT&T networks at those arenas. (Any other carriers who want to report results, you know where to find us!)
We are working to get Wi-Fi totals as well since we know all four venues — Chicago's United Center, Oakland's Oracle Arena, Cleveland's Quicken Loans Arena and Tampa's Amelie Arena all have Wi-Fi, courtesy of our recent HOOPS AND HOCKEY ISSUE. Now all we need are some final stats, so if the folks at each arena are done celebrating or weeping, send your finals Wi-Fi stats our way.
And… THREE! 🙂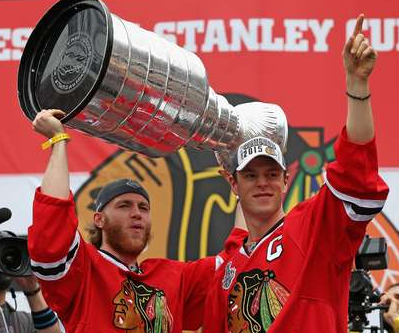 (photos credit Chicago Blackhawks team site)