Preakness Stakes
.
Thanks to some hard work from network construction teams who are good mudders, the new network and its 330-plus APs for both the main buildings and the infield at the Baltimore, Maryland track that hosts the second stop of the Triple Crown got finished at the wire, according to Joe Blaylock, director of IT for Pimlico.
"We took a 4-to-6 month project and did it in 3 weeks," said Blaylock in a phone interview, chuckling as he recalled the challenges of deploying a network around bad weather and tight deadlines.
"We weren't laughing three weeks ago," Blaylock said. "But we're at 99 point 5 percent. Anyone at the property [Saturday] will get on Wi-Fi."
Improving the fan experience
Though Pimlico had some limited Wi-Fi prior to this year, Blaylock said Belinda Stronach, the chairman and president of track owners the Stronach Group, gave his group a goal to bring more extensive connectivity to the venue so fans could use mobile devices however they wanted. With a history of using Hewlett Packard technology in its back end networks the track's IT team found what they needed in the Aruba Wi-Fi offerings and with the help of deployers MS Benbow, got the network installed just before post time.
According to Blaylock the new network increased the AP count for the infield (where 60,000 or more of the expected Preakness crowd of 140,000 congregates) to 200 APs, up from about 38 last year; in the main seating structures, there are now 130 Wi-Fi APs, up from 40 in 2017.
"Last year we could barely support 4,000 or 5,000 fans [on the network]," Blaylock said. "Now we can handle 50,000 concurrent users."
One thing the new network will enable is mobile betting for the entire facility, through the Xpressbet service also owned and run by the Stronach Group. While the venue does not have a distributed antenna system (DAS) for enhanced cellular service, Blaylock said both AT&T and Verizon Wireless have brought in Matsing Ball antennas for temporary coverage, especially for the infield crowds. There is also a new 10 Gbps backbone pipe to support the new Wi-Fi network, Blaylock said.
And thanks to his crew's ability to conquer a construction "trifecta" of "no time, bad weather and tired humans," fans at this year's race who don't cash in at the betting window should still find the Wi-Fi connectivity a winning bet, Blaylock said.
(Thanks to the Pimlico folks, Aruba and MS Benbow for sending along the following photos.)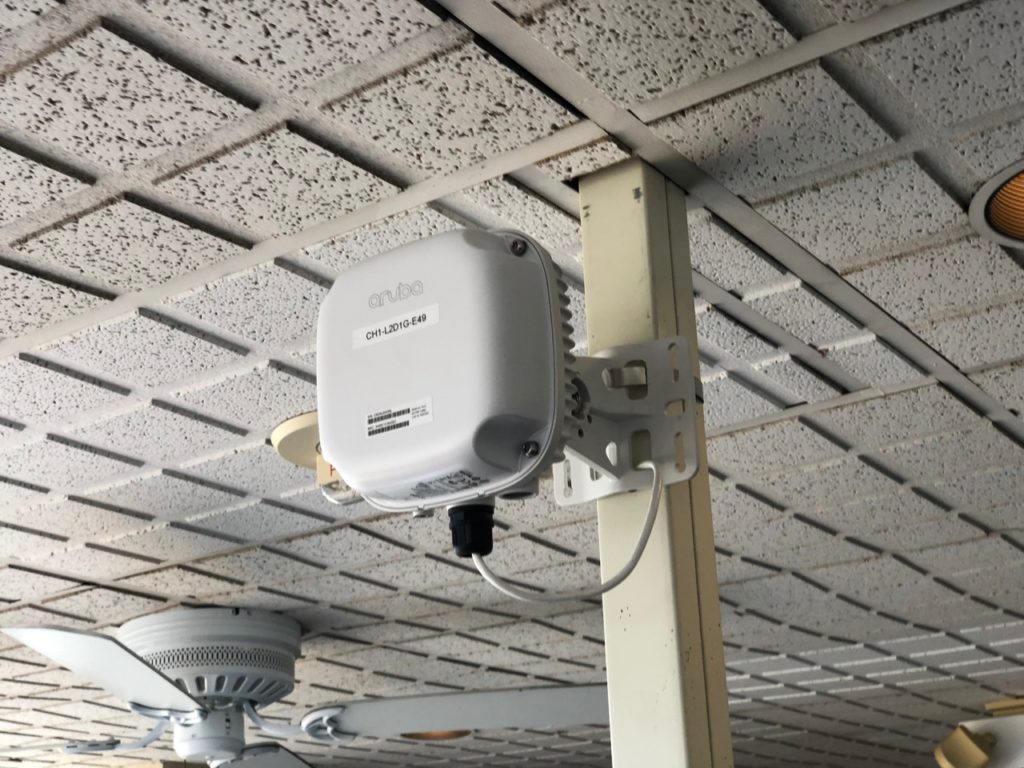 We are guessing on these photos, but some like this one are pretty self-explanatory.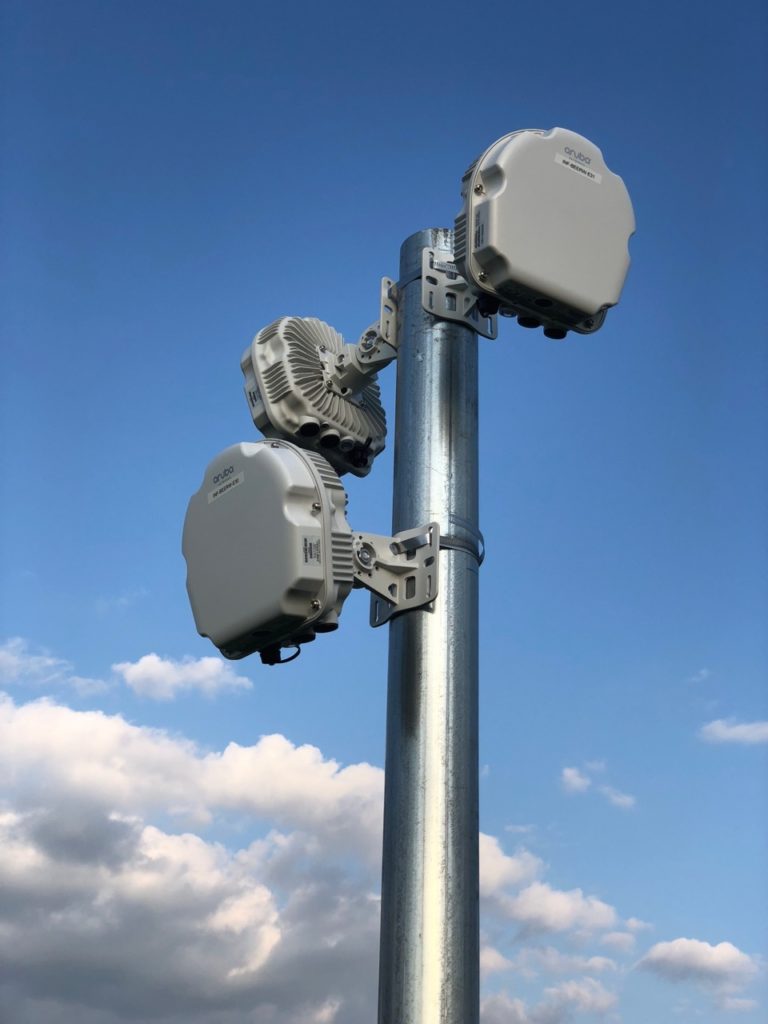 Guessing again but most likely an infield AP deployment.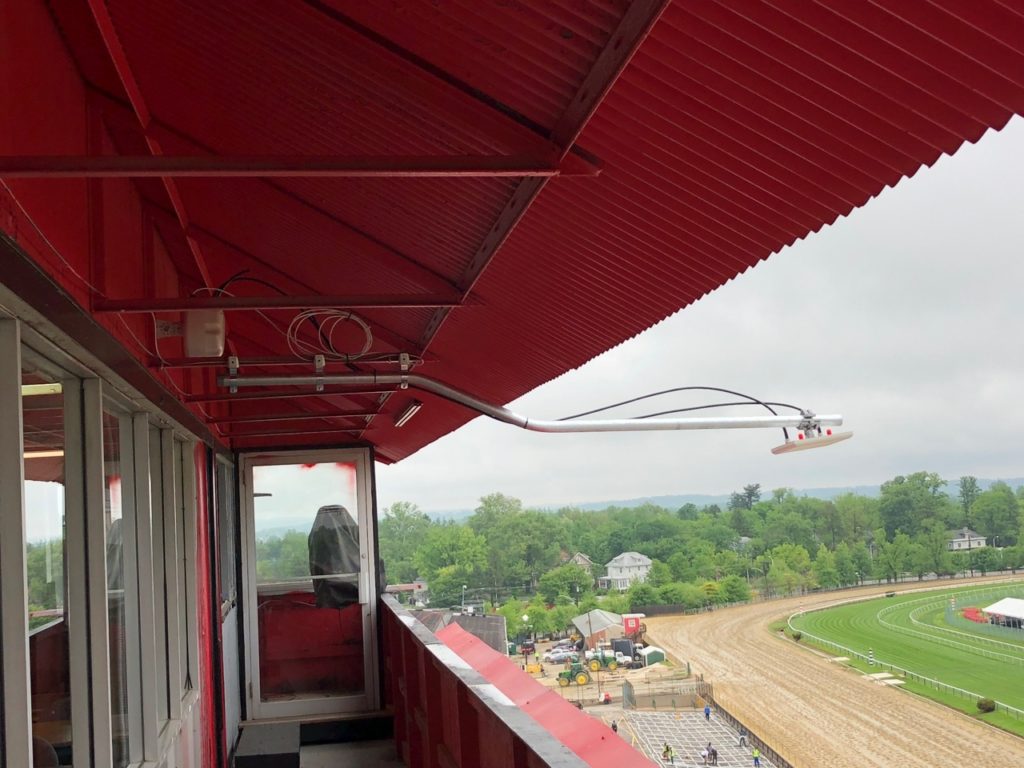 That's one way to get an AP out over the overhang to cover seats below.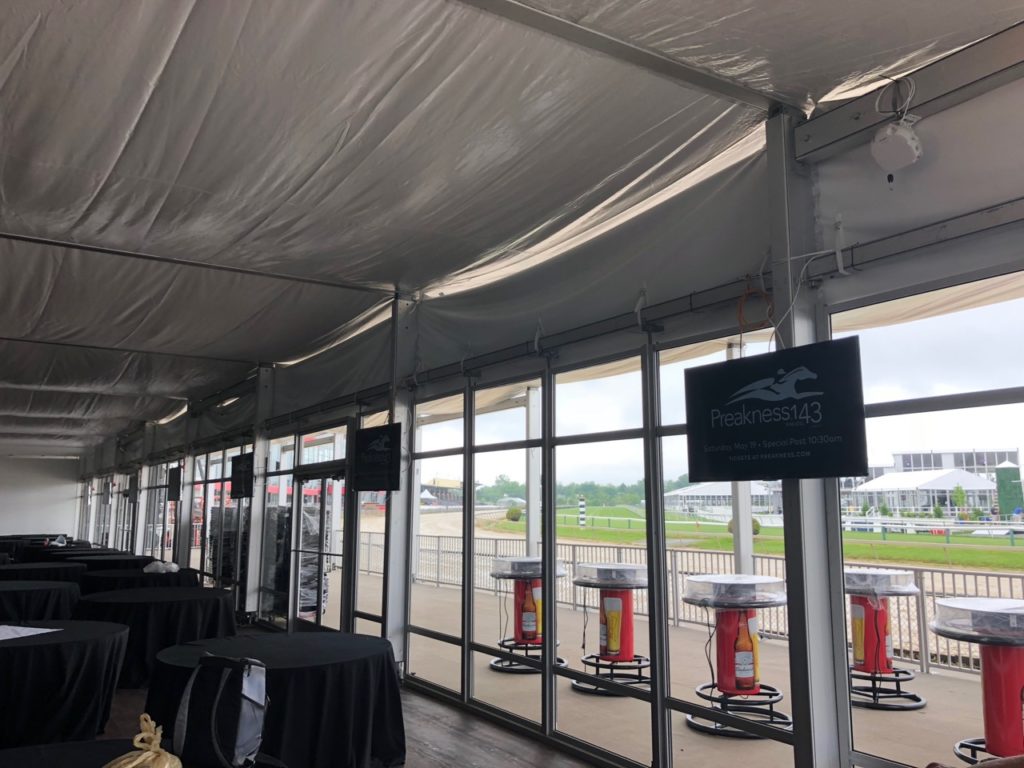 AP in upper right corner to serve what looks like betting/hospitality area.
If you look closely there are APs on larger front stanchions serving this premium seating area.

Talk about a photo finish: According to executives at the Pimlico Race Course, a new Wi-Fi network using gear from Aruba, a Hewlett Packard Enterprise company, will be ready to greet fans who arrive for Saturday's 143rd running of the