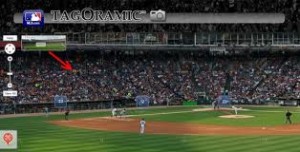 Ever looked at photos of a ball game that you attended and you searched to see if you could find yourself? Well that has just been made a whole lot easier with one of the new efforts that MLB Advanced Media and GigaPan have launched this season.
They have developed a program that shows the crowds at games in a high-definition, interactive panorama located at MLB's TagOramic web site that allows a fan to zoom in on sections of seats and find themselves and friends. Having tried it I found several friends at a recent Giants game. You can then tag yourself, which will appear as a blue dot above your head as well as share photos via Facebook Connect.
This is part of a partnership between the two that has also given birth to a a new series of programs that are digital interactive scavenger hunts. The goal is to find a hidden object or person and you can win prizes.
The first one, called the Scotts Ultimate Home Field Advantage Sweepstakes – was introduced on March 25, and offers fans the opportunity to #FindScott and tag him in theTagOramic for a chance to win a $25,000 backyard makeover. Clues and hints are available from MLB's Facebook and Twitter feed.
There are plans to run multiple contests over the year. MLB has been very aggressive in using mobile and social media to not only engage fans but also to enhance the experience at the park by allowing you to order food or upgrade seats with a smartphone or tablet. The league appears to be far ahead of its rival major sports leagues at this point and continues to push the envelope on what it can offer. While this program is hardly a epoch making event it does signify the leagues continual interest in providing for its fans.