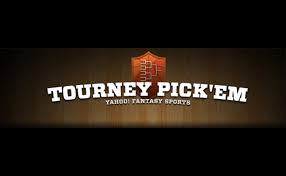 Yahoo! Sports is one of the major online sports sites and so it is of no surprise that it is also one of the major hosting sites for NCAA Tournament contests with a series of options for fans to compete against friends and strangers.
At first blush it has the features that you would expect a site that is hosting tournament pools to have including the ability to create a private group to play against your friends and the ability to join preexisting groups in the open group section. You do need a Yahoo account, which is free, to participate.
A nice touch is the ability to compete against Facebook friends, or after the tournament maybe just people that used to be friends. Yahoo! Sports will create a customized leaderboard that permits you and your Facebook friends to compare brackets, even if you are not in the same pool. Good for bragging rights if nothing else. The way I pick I fall into the nothing else category.
One of the features that is sure to capture the eye of almost anyone entering the contest is the fact that the best bracket is again eligible to win $10,000. There are of course certain eligibility rules including being over 18 years of age. To participate you must opt in when creating your bracket in the basic game portion of the site and you must have a valid Yahoo!, Google or Facebook ID.
Yahoo provides a guide to the tournament and can even fill out your brackets for you, if you so desire. Fans need to remember that time is tight and that to qualify for the tournament, and the prizes, they need to register prior to the first game of the Round of 64 that tips off tomorrow.