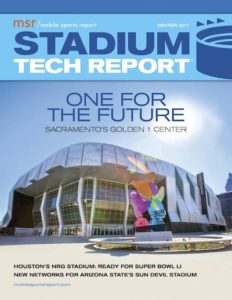 MOBILE SPORTS REPORT is pleased to announce the Winter 2016-2017 issue of our STADIUM TECH REPORT series, with a first look at the pervasive stadium technology built into the Sacramento Kings' new home, the Golden 1 Center.
Also in our latest in-depth publication created specifically for the stadium technology professional and the stadium technology marketplace is a profile of a new Wi-Fi deployment at the Indiana Pacers' Bankers Life Fieldhouse, and a profile of new Wi-Fi and DAS networks deployed at Arizona State's Sun Devil Stadium. We also provide an update on how the new Wi-Fi network at Houston's NRG Stadium is getting ready for the upcoming Super Bowl LI.
Renting a Wi-Fi network?
In addition to our historical in-depth profiles of successful stadium technology deployments, our fourth issue for 2016 has additional news and analysis, including a look at whether or not stadiums will soon be able to lease their Wi-Fi networks. Download your FREE copy today!
We'd like to take a quick moment to thank our sponsors, which for this issue include Mobilitie, Crown Castle, SOLiD, CommScope, JMA Wireless, Corning, Samsung Business, Xirrus, Huber+Suhner, ExteNet Systems, and Extreme Networks. Their generous sponsorship makes it possible for us to offer this content free of charge to our readers. We'd also like to thank you for your interest and support.
As always, we are here to hear what you have to say: Send me an email to kaps@mobilesportsreport.com and let us know what you think of our STADIUM TECH REPORT series.