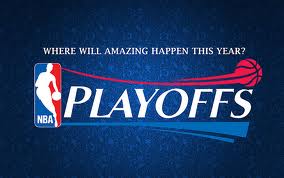 The NBA Playoffs are around the corner and an onslaught of information and games are out there waiting for you, and the NBA along with its digital partners has organized it so that users can watch live games, catch highlights online and get full information while mobile.
The push is being orchestrated by NBA Digital, and if the name does not mean that much to you, you are are still likely to know a number of the components that make up that entity which include NBA TV, NBA.com, NBA LEAGUE PASS, NBA LEAGUE PASS Broadband, NBA Mobile, NBADLEAGUE.com, and WNBA.com. It is jointly managed by the NBA and Turner Sports.
First up is NBA TV which will be broadcasting approximately 1,500 hours of game coverage and will offer the possibility of multi-screen coverage and as many as nine first round games as well as pre- and post-game programming. The network's live game telecasts will tip off with the Miami Heat hosting the Milwaukee Bucks (first round, Game 2) on Tuesday, April 23, at 7:30 p.m. ET.
However it should be noted that not all of the games will be on NBA TV, and if you are looking for additional information about games you have watched and others that were played that you did not see then the NBA's web site, NBA.Com, is the place to look as it will serve as a centralized point for all playoff information including both live video coverage and video highlights.
Among the many offerings at the site a key feature will is the ability to see live games and overtime on TNT Overtime, which also includes some unique camera angles for a different view of the game. For social media fans there is also a section called Social Spotlight where you can track and contribute tweets, photos and other media.
The mobile users have a great deal of access to all of the NBA.Com features as well as ones tailored for mobile platforms. The app, NBA Game Time, is available for both Android and Apple iOS users and provides a bracket view, series dashboards, live scoring, and game alerts, among other features. A version for iPad users, NBA Game Time Sponsored by State Farm also offers synchronized video, scores and updates delivered in real-time.