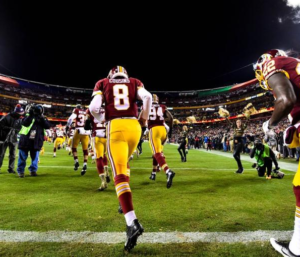 Fans at FedExField now have more bandwidth to use on the stadium Wi-Fi network thanks to a recent upgrade that moved the backbone capacity to 10 gigabits per second, according to a release from the team.
Though it's never been previously publicly announced by the Washington, D.C. NFL franchise, according to sources close to the team the reported network built by Verizon Wireless using Cisco Wi-Fi gear has been in full operation since last season, albeit under a sort of "soft launch" mode done without any promotion.
With more fans now using the network, the team saw a need to increase bandwidth from the 1 Gbps pipe that had been supplying all the Wi-Fi network needs. For many football-stadium Wi-Fi networks, 10-Gbps pipes are a popular choice, with several stadiums opting for multiple such connections. Levi's Stadium in Santa Clara, Calif., home of the San Francisco 49ers, has four 10 Gbps pipes as part of its backbone configuration, while US Bank Stadium in Minneapolis, the new home of the Minnesota Vikings, has six 10 Gbps links.
For those who are new to stadium Wi-Fi (or who don't know the difference between backhaul and actual end-user network speeds), the backbone bandwidth is shared by the entire network, which may have multiple tens of thousands of client devices running off any of hundreds of Wi-Fi access points. Typical user bandwidth speeds on Wi-Fi in large networks can range from single-digit megabits per second anywhere up to 20, 40 or even 60 Mbps, depending upon network configuration and density of users. Any fans attending games at FedExField who want to send us a speedtest please do!