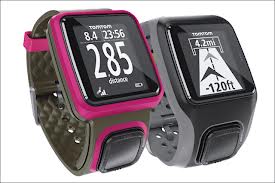 TomTom has delivered a pair of GPS-based sports watches, one that is focused primarily on runners while the other is designed for a more multi sports approach that should appeal to a much broader range of athletes.
The company had two design goals win mind when they built the TomTom Runner and the TomTom Multi-Sport GPS sport watches. It believes that most existing watches in this field are too bulky and cumbersome and so sought to shrink the size and make it a slim, easily worn device. At the same time it was seeking to use a large display to show the graphical training tools. It believes that it reached both of these goals as well as simplifying the use of the watch with its one button control.
The watches are both built on TomTom's Graphical Training Partner, a program that allows users to track vital statics in real time. It has three basic modes: Race, Goal and Zone. Race allows you to vie against a recently set time or your personal best. Goal allows you to set a number of parameters such as time, distance or calorie and then track how you are doing against your goals. Zone has users set targets such as pace or heart rate and then allows you to track your progress during a workout. A heart monitor for this is an option.
Among the watches other features are an indoor tracker to so that a user can track activity on devices such as a treadmill; QuickGPSFix uses GPS and GLONASS satellite technology to quickly find users' precise location.
Since many runners and other athletes already often use other apps to track and share progress the watches have the multi-platform compatability and can sync with a variety of alterative platforms including the TomTom MySports website, MapMyFitness, RunKeeper, TrainingPeaks and MyFitnessPal
All of these and other features are standard in both watches while the TomTom Multi-Sport also allows multi-sport athletes to track their distance, time, speed and other key metrics when they cycle or swim and includes a built-in altimeter and a bike mount.
Last year TomTom teamed with Nike for a GPS watch and it ran Nike Fuel but it is not clear if this one will also support Nike's platform.
The TomTom Runner and TomTom Multi-Sport will be available in Summer 2013. The market for sports watches is a fairly crowded one, and one that will get even more packed if all of the rumored hybrid smartwatches that have been reported from the likes of Apple, Samsung, Nokia, Microsoft and others actually do come to market. I expect that including all of the ones that have appeared on Kickstarter their will be a glut on the market of these types of devices and users should spend some time considering how and when they plan to use such devices to see what will best fit their needs.