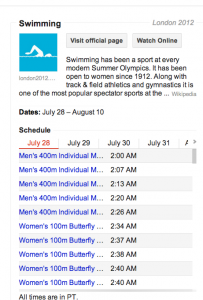 Now that the opening ceremony is out of the way, let the Olympic Games begin. And if you want to know when any event will start, Google is ready to tell you — and will even handily sync it to your local time, all the better for those of us who want to watch things in real time, no matter how far we are from London.
As a cycling fan I knew the men's road race was nearing its start time over in London but I didn't know exactly when it kicked off, so off I went to Google — where I found a handy cycling schedule to the right hand side of the screen, telling me that the race started at 2:00 a.m. my time. Entering "swimming" in the Google search bar brought up an equally impressive interactive schedule (screen shot to the left) with all heat race times. I am assuming Google has this info sussed out for all events on all days. A handy and easy thing and a good way for the Googlers to make sure they get more than their share of search revenue during the games, by being the best at pointing people where they want to go.
With NBC promising to stream everything live, Google's "Watch Online" button will probably get quite a workout. When it comes to the men's road race Saturday I know Mark Cavendish is the favorite and if it comes to a field sprint he won't be beaten. But Olympic races never seem to go as planned, and remember Cav ain't racing here with the full Sky team but only four other teammates, with no radios so it's not a given that Cav will deliver. Our good friend John Wilcockson earlier this year sussed out the strategies we may see on the London course. I'm going to go with Peter Sagan as my pick, just to seem smart.