As the official technology partner for the USGA and its championships, Cisco said it set out with the goal to make this year's 119th U.S. Open the "most connected" in the event's history, mainly through the deployment of about 400 Meraki Wi-Fi APs throughout the famed seaside course.
According to the USGA, the network saw 25 total terabytes of data used during the championship, but the USGA did not break out daily totals. The USGA also said it saw more than 100,000 connections to the network, but did not specify if that number represents unique connections or contains multiple connections from the same devices. In addition, our special correspondent Keith Newman did spend tournament Saturday at the course, and found the network to provide good connectivity in many places around the grounds. In addition to putting APs on obvious placement spots like the edges of seating areas and on top of hospitality and other temporary structures, Cisco also had some mobile AP placements on towers in strategic locations.
According to Cisco, it brought in gear to create a 10 Gbps backbone for the Wi-Fi network, also including support for tournament back of house operations on that backbone. Static signage at the event directed fans to the Wi-Fi network, and since Cisco also sponsored this year's U.S. Open mobile app, users of that were also alerted to the free Wi-Fi on the property.
Cisco Vision on the driving range
On the display side of things, Cisco also utilized its Cisco Vision IPTV display management system to help bring more interesting information to fans at the venue. Especially interesting was the incorporation of the Toptracer shot-tracking graphics to show live player performances on the driving range, with the ability to map multiple players and provide a range of stats on shot distance and speed.
The tournament, especially Sunday's thrilling victory by Gary Woodland over the close-finishing Brooks Koepka, no doubt presented many networking challenges, especially when fans randomly thronged to tee-box areas to try to get a photo or a video of players teeing off.
"Our digital integration with Cisco provided us the opportunity to elevate the fan experience and provide more connectivity than any previous U.S. Open," said Navin Singh, chief commercial officer of the USGA, ina prepared statement. "We also learned a lot and recognize that mobile consumption demands are only going to continue to grow. We are excited to get to work on providing an even better experience in 2020 at the 120th U.S. Open at Winged Foot."
More photos from Pebble Beach below.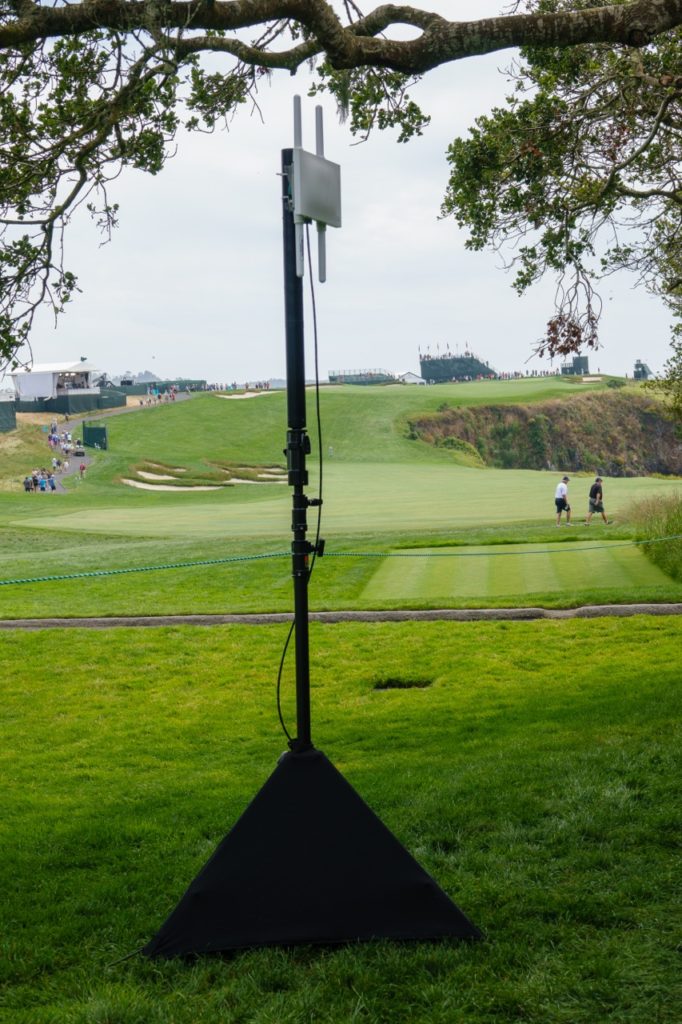 An on-course mobile AP placement. Credit: Cisco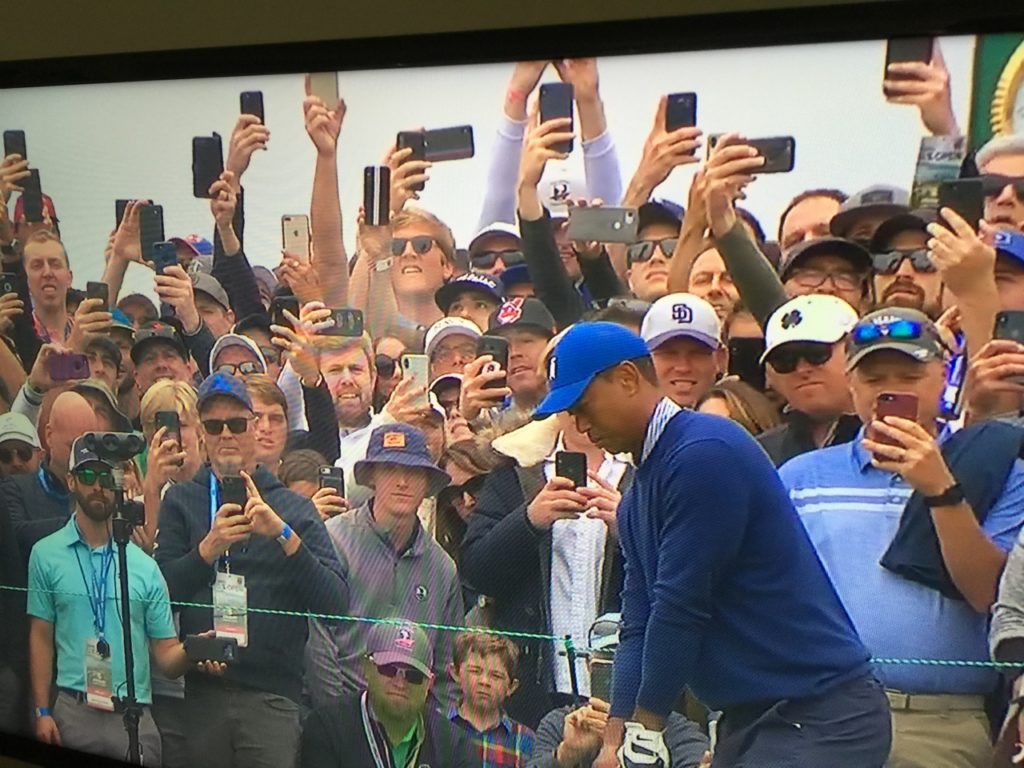 Digital device use soared at the U.S. Open whenever Tiger Woods was around. Credit: Paul Kapustka, MSR (Screen shot of Fox TV broadcast)
A leaderboard provided space for an AP placement. Credit: Cisco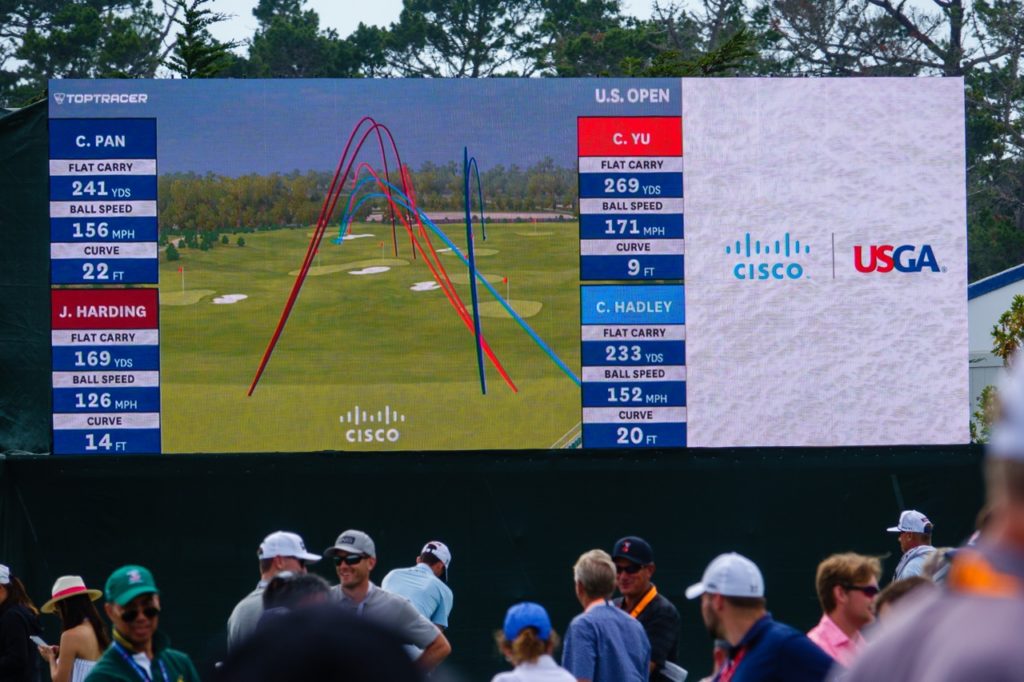 Toptracer shot-tracking graphics at the driving range, powered by Cisco Vision. Credit: Cisco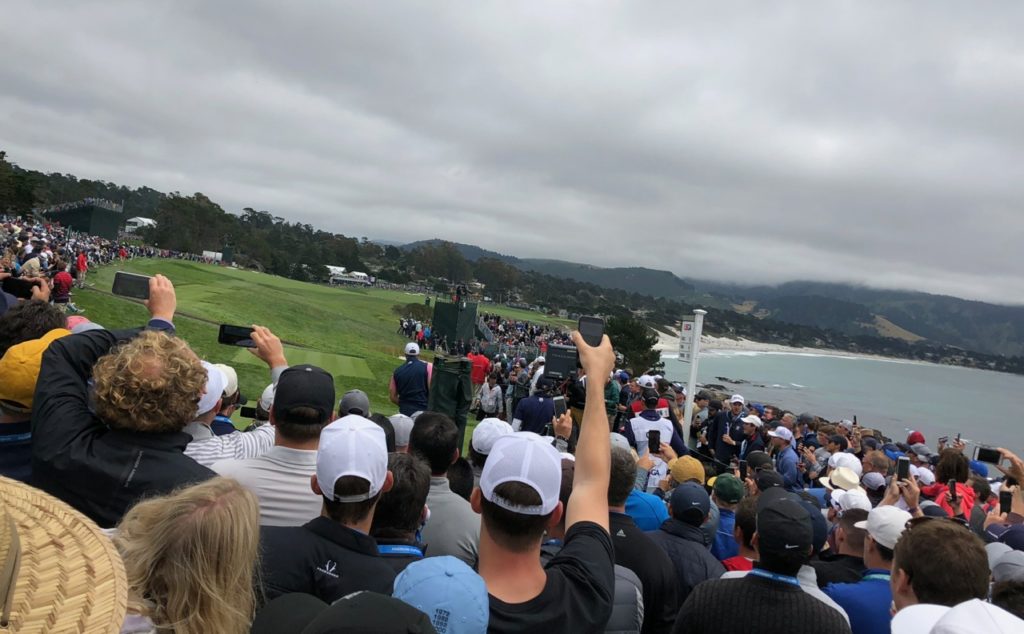 Fans clustered around tee boxes, putting extra stress on the network. Credit: Keith Newman, MSR

Fans at the recent U.S. Open golf championship at Pebble Beach were treated to an on-course Wi-Fi network from Cisco, as part of a sponsorship partnership between Cisco and the U.S. Golf Association.