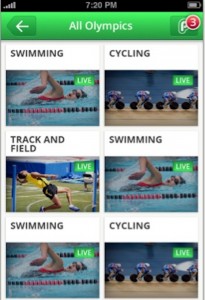 Fan interaction app PlayUp, which made its name this spring with several pro-athlete chat rooms for big events, is stepping up its own game with a new release of the app just in time for the London Olympics.
Announced today, version 3.1 of the PlayUp app for the iOS platform adds some interesting new features, including third-party content and sports news, as well as targeted sports feeds by the user's geographic location. This feature, PlayUp said, brings the most regionally relevant content to the forefront when a user launches the app. PlayUp can be downloaded free from the iTunes store.
The PlayUp app, which gives sports fans the ability to track teams, scores and to converse with other fans in either small or large, or private or public groups, will now bring that interaction to the Olympic games, which begin July 25 and go until Aug. 12. The PlayUp app will give fans real-time results, standings and leaderboards for almost all the events, in addition to the app's signature ability to let fans talk smack, agree and cheer, or otherwise communicate with friends and fans worldwide about their favorite sports.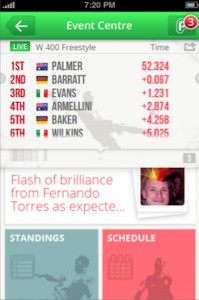 What should be interesting is to see how third-party entities contribute to the PlayUp app to make the experience richer for PlayUp users. (You may even see some Mobile Sports Report content there soon, so keep your eyes peeled.) The app already has news feeds featuring stories from Yahoo, ESPN and CBS, so PlayUp has you covered when it comes to quick coverage from the top media outlets. The MSR take here is that more integration and aggregation is better for fans, who don't have to leave an app to check, say, a Twitter feed. The challenge for PlayUp will be to convince partners that their app can bring in new sports-savvy users.
"Now sports fanatics can turn to PlayUp to get sports content, stats, Twitter feeds and more, and can be assured to get their sports fix even when no live games are being played," said PlayUp CEO Dennis Lee in a press release. "We now also have the opportunity to connect brands and developers with sports fans and provide these third-parties with more effective ways to connect with potential customers across the globe. There is no bigger and better event to showcase PlayUp's new features than the Olympics."