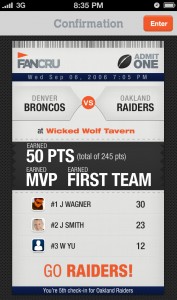 Fans like to talk with fans, at least ones that share similar allegiances, and Fancru is seeking to exploit that with its sports app that will enable groups of like minded fans to chat as well as allowing you to reach out to your friends.
If this sounds a bit familiar it is. There are several other apps that are seeking to establish themselves as platform for fan interaction and FanCru realizes that it has to step up to the plate big time to enable it to be recognized above the noise in this space.
The app, currently only available for the iPhone (it will work on an iPad but is not optimized) is the brainchild of John Wagner, Fancru's co-founder and president and Bill Diamond, co-founder and CEO. Wagner is a self proclaimed sports nut who constantly watches games and saw this as an opportunity for fans to share experiences with others both attending the sporting events and those following elsewhere.
The app has several different distinct functions, and in some ways it reminds you of a host of other apps such as Foursquare, since you can log in your location, ESPN, since it gives you scores, and rival apps such as Recapp which provide news articles about selected teams.
Similarities aside it has a game feed that connects you to other fans following an event. Then on top of that there is the Cheer & Vent function that allows you to vent etc as well as post images from where ever you are.
You establish an account and then select the sports teams and leagues that you want to follow-NFL, NCAA Football, MLB, NBA, NHL, MLS and Brazilian Soccer. Add the teams you want and then you can connect to them via Facebook, Twitter, searching your address book, SMS and the old fashion way by including their names manually. You can check to see which teams have the most fans and earn points for prizes by doing various actions.
The company's first version of the app, for all practical purposes a beta release, provided it with plenty of user feedback that it used to incorporate in its current offering. But it is not just listening to what fans think of the product that is important to the company. Available now for the iPhone the company is working on an Android release and then will optimize its iPhone app to efficiently run on iPads.
Fancru is taking an interesting approach in that it is seeking to engage teams and leagues into using its technology as possibly a front end to an app that the teams might be developing by opening up its SDK and APIs up to the market freely available.
It is hard to predict how that will work out for the larger, more established leagues such as the NFL and MLB. Right now MLB has AtBat as its official app, which it own. However MLB has been very proactive in trying to engage fans via a series of apps and contests and having like minded fans chat during games would seem to fall into the direction it is taking. There is also an effort to allow teams to add a local flavor to AtBat so that while the league might not adopt the technology local teams might have that option.
In addition Fancru has been accruing analytics about what its users are doing and so it would enable teams to better meet fans wants and needs, Wager points out. He sees the app as a valuable tool to teams that want to bring fans out to the events in a day when many have huge high definition televisions and are content with watching at home.
By enabling a team to have contests that could be centered on a game, a player or a section of seats it can bring fans into more active participation and with that more active attendance.
A challenge to an app of this sort will be breaking through the noise. The Apple App store has almost a million apps currently. There are slightly older rival apps that either point to a single sport such as GolfGamebook or are also more broadly based such as GrabFan, PlayUp and Kwarter.
Being a relatively new category helps since there really is not established leader and they are all facing the same uphill battle. In addition stadiums and leagues are only ow upgrading their wireless capabilities to enable in-game fan interaction. I suspect that within a year or two a huge number of fans will be using a chat technology that connects them to others in and out of the stadium.