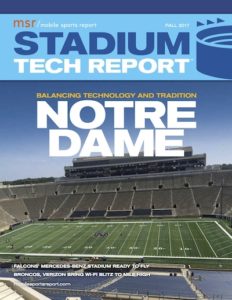 We always get excited here at Mobile Sports Report when we have a new quarterly report out, but the stories, profiles and analysis in our Fall 2017 issue just may be our best-ever effort. With a detailed look at the new Wi-Fi network at Notre Dame Stadium, and a first look at the Atlanta Falcons' new Mercedes-Benz Stadium, our Fall 2017 issue starts off with a doubleheader of deep information profiles and it doesn't stop there!
In addition to Notre Dame and Mercedes-Benz Stadium, this issue also has a detailed look at the new football stadium at Colorado State University, which also has high-performing Wi-Fi and a neutral-host DAS deployment. We also take a look at the Wi-Fi renovation taking place at the Denver Broncos' Sports Authority Field at Mile High, a network upgrade that should lift the Broncos' home to the top of the list of NFL stadium networks. And we're still not done!
Also in this issue is a well timed, deeply informed essay from Chuck Lukaszewski about unlicensed LTE and what it means to venues. Chuck, the top wireless guru at Aruba, a Hewlett Packard Enterprise company, digs into this developing cellular/Wi-Fi issue and delivers some heads-up knowledge that all venue tech professionals should absorb. We also have one more profle in the issue, a look at a temporary Wi-Fi network being installed at the Los Angeles Coliseum. That's a lot of reading, so get started by downloading your free copy today!
Part of the reason we're able to bring you so much good content is the support we get from our industry sponsors. In this issue we also have a record number of sponsors, including Mobilitie, Crown Castle, CommScope, JMA Wireless, Corning, Huber+Suhner, American Tower, Extreme Networks, Oberon, Cox Business, 5 Bars, Boingo Wireless and Aruba, a Hewlett Packard Enterprise company. The support of our sponsors allows Mobile Sports Report to not only do all the work necessary to bring you these great stories, but it also allows us to offer our reports to readers free of charge! We'd also like to welcome new readers from the Inside Towers community, who may have found their way here via our new partnership with the excellent publication Inside Towers.
Download the Fall 2017 Stadium Tech Report today!