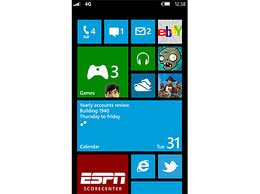 Microsoft continued its move into a more digital, mobile software provider today with the debut of its Windows Phone 8 smartphone operating systems, offering a very much revamped OS along with a number of its partners' latest offerings.
Microsoft is looking to leverage changes it has made in its operating system , with its Windows 8 OS introduced just last week, and will now be providing a similar look and feel with the same technology core used in both platforms.
The look and feel of the OS appears to be very different from what is offered from its rivals- no static icons but rather what Microsoft is calling Live Tiles, a technology that has the apps that you use in a tile format.
The nice thing about Live Tiles is that a user can customize the startup page and place the apps and functions that they want right there, rather than being stuck with a large number of predetermined apps.
A key attribute of many of the apps is that they are live, that when you look at the phone or start it up an app such as Facebook will be up to date, even if it is still in lock screen mode.. They are also sizable with three formats and you are provided with 20 options for colors.
Microsoft has also been working on developing a much healthier app ecosystem, an area that it has received criticism in the past. Its Windows Phone Store now has 120,000 apps including most of the top rated. In the future it will have Pandora, the leading Internet radio service, in early 2013 with one year of ad-free music.
There is a feature called Data Sense that helps prevent you from going over your data plan by automating and in some cases delaying tasks. It can compress images, or defer tasks until free Wi-Fi is available. It can monitor how much data apps use and inform you when you are nearing the limit. This is used in conjunction with carriers and Verizon is expected to be the first to support it.
One clever piece of software is it's "Kid's Corner" an app that enables children to play games on the phone without deleting information, ordering apps or calling Peru.
Along with the Windows Phone 8 OS, Microsoft had a trio of partners delivering new phones. There will be several options available from Nokia, Samsung and HTC, that will go on sale in November at AT&T, T-Mobile and Verizon in the U.S., as well as at carriers and retailers around the world.
The move comes just hours after Google announced an update to Android, now at 4.2, along with a new Nexus phone and a revamped Nexus 7 and a new Nexus 1 tablet. Apple had a new iPhone out a few weeks back and a new iPad Mini last week.
I think that, depending on real world performance when the phones are available, Microsoft has a strong story simply because all of its products- PC OS, tablet OS and smartphone OS are compatible with each other and using Microsoft's SkyDrive cloud service a user can start projects on one device and finish them seamlessly on another- a compelling usage model IMHO.