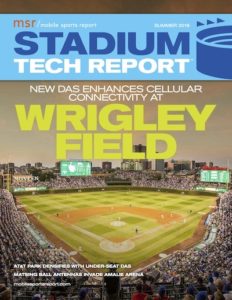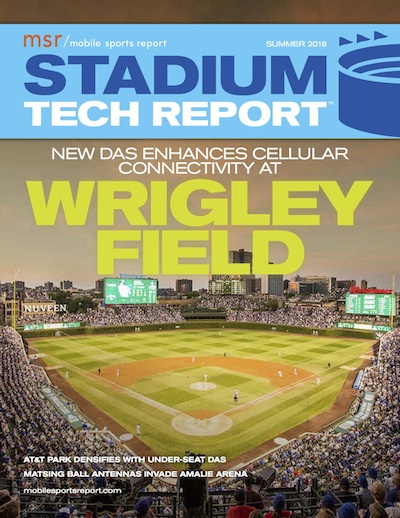 Call it the 'Connect the DAS' issue — our latest STADIUM TECH REPORT is heavy on DAS news, with new deployments at Wrigley Field, AT&T Park, and Amalie Arena — all of them breaking news, as in you heard it here first!
At AT&T Park, the home of the San Francisco Giants, there is a brand new upgrade to the stadium's DAS network, an AT&T-only deployment of DAS antennas inside the same under-seat enclosures used for stadium Wi-Fi. An experiment at first, just a few months into the season it has surprised both the team and the carrier with how well it's doing. Get the details by DOWNLOADING OUR FREE REPORT right now!
Second at bat in the news-scoop arena is another DAS deployment, this one just getting underway at Amalie Arena in Tampa, home of the NHL's Lightning. The twist on this new network — also being installed by AT&T — is that it will exclusively use MatSing ball antennas, those quirky-looking "big ball" antennas that you may have seen used in a temporary fashion at outdoor events. What's bringing them inside? DOWNLOAD THE REPORT and read our exclusive story!
And at venerable Wrigley Field — the friendly confines of the Chicago Cubs — a long-planned upgrade to the venue's cellular systems is finally in place, using JMA Wireless equipment deployed by DAS Group Professionals. Our in-person visit took a look at how DGP and the Cubs merged new technology with one of baseball's most historic structures. Who says DAS is dead?
In addition to those stories we also have a complete, in-person visit and profile of the new networks at the newest stadium in MLS, the Los Angeles Football Club's Banc of California Stadium. We also have a Q&A with Sprint CTO Dr. John Saw, all packed into one issue ready for FREE DOWNLOAD right now!
We'd like to thank our sponsors for this issue, which includes Mobilitie, Corning, Huber+Suhner, JMA Wireless, Cox Business/Hospitality Network, Oberon, Boingo, MatSing, ExteNet and DAS Group Professionals — without their support, we wouldn't be able to make all this great content available to you for no cost. Thanks for your interest and we hope you enjoy the latest issue of our STADIUM TECH REPORT series!