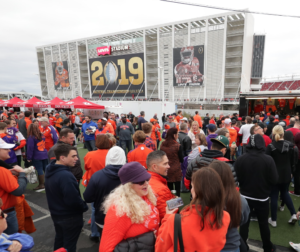 Fans and media members at Monday night's College Football Playoff championship game used a total of 5.1 terabytes of data on the Wi-Fi network at Levi's Stadium, according to figures provided by the San Francisco 49ers, who own and run the venue.
With 74,814 in attendance for Clemson's 44-16 victory over Alabama, 17,440 of those in the stands found their way onto the stadium's Wi-Fi network. According to the Niners the peak concurrent connection number of 11,674 users was seen at 7:05 p.m. local time, which was probably right around the halftime break. The peak bandwidth rate of 3.81 Gbps, the Niners said, was seen at 5:15 p.m. local time, just after kickoff.
In a nice granular breakout, the Niners said about 4.24 TB of the Wi-Fi data was used by fans, while a bit more than 675 GB was used by the more than 925 media members in attendance. The Wi-Fi data totals were recorded during an 8-1/2 hour period on Monday, from 1 p.m. to 9:30 p.m. local time.
Added to the 3.7 TB of DAS traffic AT&T reported inside Levi's Stadium Monday night, we're up to 8.8 TB total wireless traffic so far, with reports from Verizon, Sprint and T-Mobile still not in. The top Wi-Fi number at Levi's Stadium, for now, remains Super Bowl 50, which saw 10.1 TB of Wi-Fi traffic.