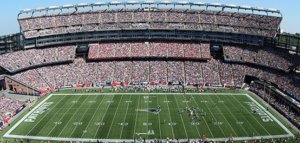 As we suspected earlier this year, the bar for single-day Wi-Fi data use keeps being pushed up at big events. At Gillette Stadium in Foxboro, Mass., this year has seen two new entries for our unofficial all-time Wi-Fi use list, at the AFC Championship Game held back in January, and a summer concert of the Taylor Swift Reputation tour, which has been racking up big Wi-Fi numbers across the country.
According to a blog post from Gillette Wi-Fi gear provider Extreme Networks, the New England Patriots saw 8.53 terabytes of Wi-Fi used by fans at the Jan. 21 AFC Championship game between the Patriots and the Jacksonville Jaguars, which New England won 24-20. According to Extreme there were 43,020 unique device connections to Wi-Fi during the game, with a peak concurrent connection mark of 37,115 devices, both top marks for the longtime well-connected venue.
Interestingly, the Taylor Swift stop at Gillette on July 27 produced more total data — 9.76 TB, according to Extreme — with fewer connected clients than the AFC Championship game. For the Swift show, Extreme saw 35,760 unique devices connect with the Wi-Fi network, with a top concurrent mark of 27,376 devices. Peak system throughput was also higher for the concert, at 10.7 Gbps compared to 6.3 Gbps for the AFC Championship game. That makes sense, since there are more times during a concert to share social media and other communications compared to a tense football game, where most fans still watch the action while it is happening.
Stay tuned for more big Wi-Fi events! If you have a past event to add to the list, let us know!
THE MSR TOP 15 FOR WI-FI
1. Super Bowl 52, U.S. Bank Stadium, Minneapolis, Minn., Feb. 4, 2018: Wi-Fi: 16.31 TB
2. Super Bowl 51, NRG Stadium, Houston, Feb. 5, 2017: Wi-Fi: 11.8 TB
3. Atlanta Falcons vs. Philadelphia Eagles, Lincoln Financial Field, Philadelphia, Pa., Sept. 6, 2018: Wi-Fi: 10.86 TB
4. Super Bowl 50, Levi's Stadium, Santa Clara, Calif., Feb. 7, 2016: Wi-Fi: 10.1 TB
5. Taylor Swift Reputation Tour, Gillette Stadium, Foxborough, Mass., July 27, 2018: Wi-Fi: 9.76 TB
6. Minnesota Vikings vs. Philadelphia Eagles, NFC Championship Game, Lincoln Financial Field, Philadelphia, Pa., Jan. 21, 2018: Wi-Fi: 8.76 TB
7. Jacksonville Jaguars vs. New England Patriots, AFC Championship Game, Gillette Stadium, Foxborough, Mass., Jan. 21, 2018: Wi-Fi: 8.53 TB
8. Taylor Swift Reputation Tour, Broncos Stadium at Mile High, May 25, 2018: Wi-Fi: 8.1 TB
9. Kansas City Chiefs vs. New England Patriots, Gillette Stadium, Foxborough, Mass., Sept. 7, 2017: Wi-Fi: 8.08 TB
10. Green Bay Packers vs. Dallas Cowboys, Divisional Playoffs, AT&T Stadium, Arlington, Texas, Jan. 15, 2017: Wi-Fi: 7.25 TB
11. Stanford vs. Notre Dame, Notre Dame Stadium, South Bend, Ind., Sept. 29, 2018: 7.19 TB
12. (tie) Southern California vs. Notre Dame, Notre Dame Stadium, South Bend, Ind., Oct. 21, 2017: 7.0 TB
Arkansas State vs. Nebraska, Memorial Stadium, Lincoln, Neb., Sept 2, 2017: Wi-Fi: 7.0 TB
13. WrestleMania 32, AT&T Stadium, Arlington, Texas, April 3, 2016: Wi-Fi: 6.77 TB
14. Wisconsin vs. Nebraska, Memorial Stadium, Lincoln, Neb., Oct. 7, 2017: Wi-Fi: 6.3 TB
15. Super Bowl 49, University of Phoenix Stadium, Glendale, Ariz., Feb. 1, 2015: Wi-Fi: 6.23 TB