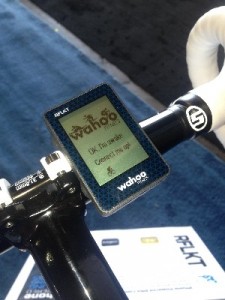 The market for smartphone-based cycling computers is a crowded one but with enhancements in phones constantly coming along, developers continually have room to differentiate their products from rivals, and that is what Wahoo Fitness is looking to do with its latest offering.
Wahoo has long been a developer in this space using the iPhone as a core piece of its offering and its latest is no different. The company's RFLKT Bike Computer is designed to be used with an iPhone 4S and the recently released iPhone 5..
There are several components to the product. A user mounts the RFLKT unit on the handlebars of the bike and it displays the information that a cyclist needs to evaluate their ride. Among the data that it allows users to monitor are power, speed, cadence, heart rate, pace, distance, location, and course.
However the data is gathered using the iPhone, which the owner can keep in a pocket or another safer place than the handlebars, and its various built-in features as well as third party apps as needed. The phones GPS helps plot out your path and its Bluetooth capabilities transmit the data to the RFLKT unit.
A user can use a favorite cycling app with the device and switch between screens. The iPhone enables a user to customize the look and feel of the appearance on the RFLKT's display.
Also available for use are a host of technologies and apps from Wahoo including its speed and cadence sensor for iPhone, heart rate monitor and its Power Trainer. A user can also check in with their favorite social networking site or run playlists via the device as well as monitor their riding stats.
Wahoo Fitness' RFLKT Bike Computer is currently being demonstrated at the Interbike 2012 trade show in Las Vegas and is expected to ship in December with pricing to be determined.