We'll have more details and perhaps some final tonnage numbers coming soon, but before we crash late night here in the Alamo city, where Mobile Sports Report was live in attendance at Monday night's championship game of the NCAA Men's Basketball Tournament, we wanted to share some impressive stats we saw while logging numerous steps up and down the sections of the venerable Alamodome before and during Villanova's 79-62 victory over Michigan.
It was a pretty packed house with 67,831 in attendance Monday night, and for Wi-Fi it really was a tale of two networks: One, for the fixed or permanent seating in the football-sized facility, and another for the temproary network that serviced the wide expanse of floor seating brought in by the NCAA for its crown jewel event of men's hoops. With about 200-plus Wi-Fi APs serving the closest seating sections, we still saw some super-healthy speedtest readings, like one of 55.9 Mbps download and 58.7 Mbps upload in the north stands in row DD, just past the band section and media sections behind the north hoop.
At center court on the side where the network broadcast teams sit, we got a speedtest of 34.3 Mbps down and 34.3 Mbps up in row JJ of section 112. Since we thought we heard Jim Nantz calling our name during pregame activities we scrambled down to row J, but Jim was called away before we could confirm his question. Instead we took a speed test there in the celeb seats and got an official mark of 1.65 Mbps / 7.61 Mbps, but did see a 10 Mbps download mark appear on a second test before the speedtest app encountered an error.
As far as we could tell, whatever designer and deployer AmpThink did for the on-floor seats it seemed to work pretty well. But as we are writing this that network is being dismantled, perhaps not to be used again until next year's men's Final Four, scheduled to take place at U.S. Bank Stadium in Minneapolis.
Handrail enclosures and Gillaroos
Up in the permanent seats, the network AmpThink installed during a permanent renovation of the Alamodome earlier also performed well, even in some of the hardest places to reach. At the top of the lower-bowl seating section, where MSR took a peanut break in the first half (since our media seat was, ironicially, the only place in the stadium where we couldn't get any kind of a Wi-Fi connection) we got a mark of 65.6 Mbps / 62.5 Mbps.
But even when we climbed into serious nosebleed country — and we do mean climb since the Alamodome has no escalators anywhere for fans — we still got good Wi-Fi connectivity, thanks in part to some handrail AP enclosures we saw above the VOMs leading to the top-section seats, and some Gillaroo antennas on the upper back walls pointing down. Above the VOM leading to section 343 in the stadium's northwest corner we got a mark of 30.5 Mbps / 20.8 Mbps, and up near the roof in row 22 of section 342 we still got a mark of 17.5 Mbps / 9.84.
Other places where coverage really shined was in the stairwells and on the concourses; along the top-level 300 section concourse we got a pregame mark of 57.1 Mbps / 58.2 Mbps even as crowds chanting "Go Blue!" and "Nova Nation!" made traffic an elbow-to-elbow affair. In another stairwell, we stopped to catch our breath and got a speed test of 64.9 Mbps / 68.2 Mbps.
Overall, the permanent and temporary networks seemed to have performed well under the pressure of a bucket-list event, the kind where fans roam the concourses during pregame with phones overhead, taking videos to be shared later. According to Nicholas Langella, general manager for the Alamodome, preliminary reports said there were 12,500 unique connections to the Wi-Fi during Saturday's semifinal games and another 12,300 connections during Monday's championship game. On the DAS side of things, AT&T reported 2 terabytes of data used on their network during Saturday's semifinals, and another 1.1 TB used during Monday's game. We are still waiting for other carriers to report DAS numbers, as well as for final total Wi-FI usage numbers. For now enjoy some more photos from our visit.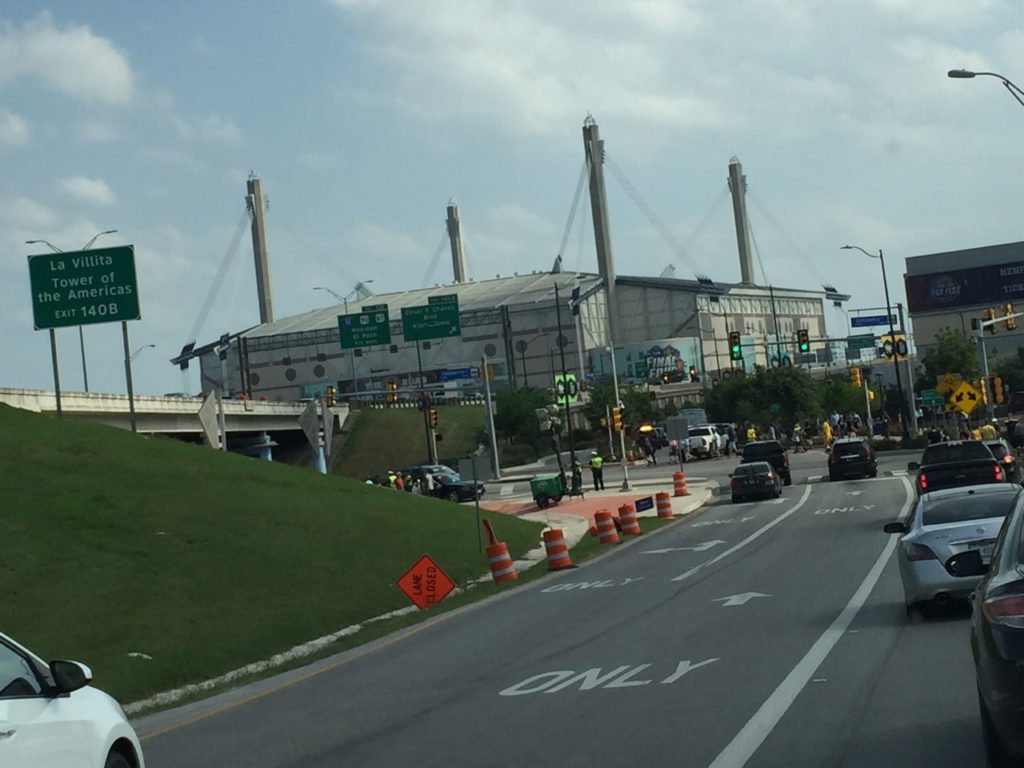 Approaching the Alamodome from the freeway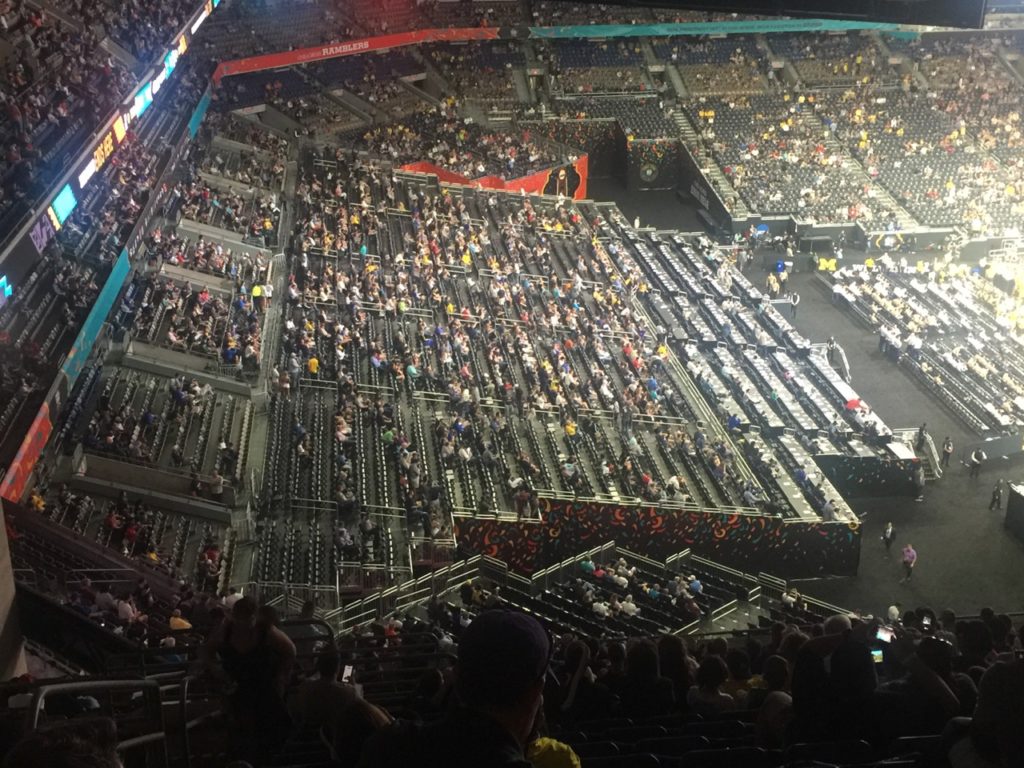 A good look at how the NCAA floor seats extend out in the end zone area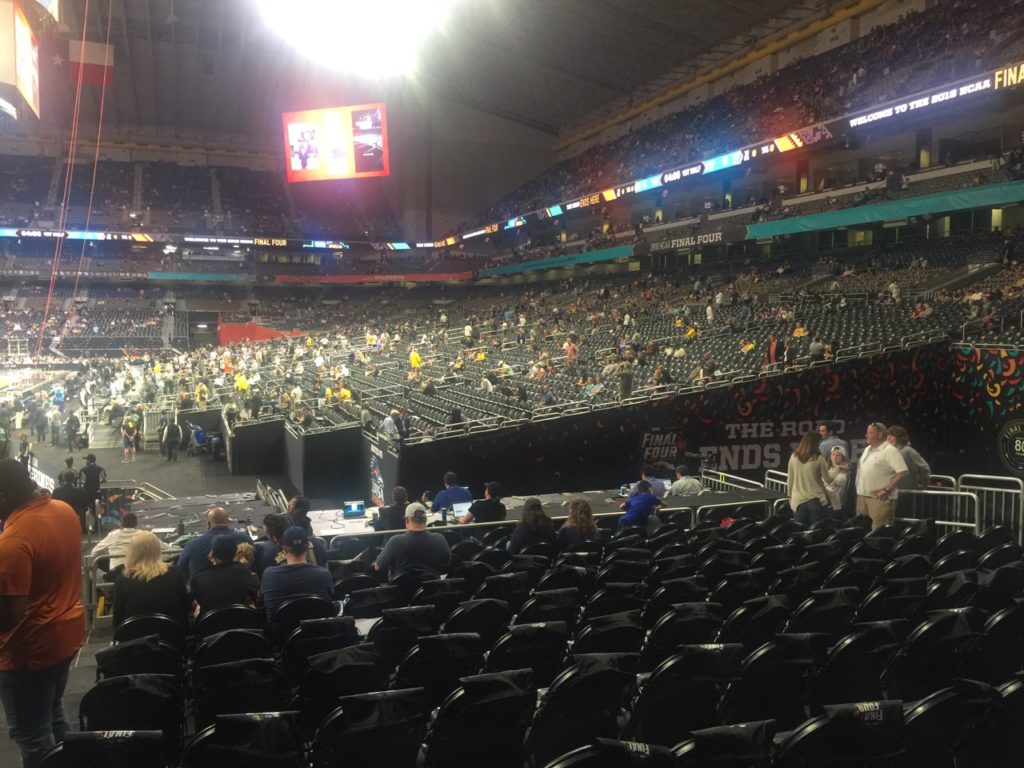 Another look at the floor seating sections, this time along courtside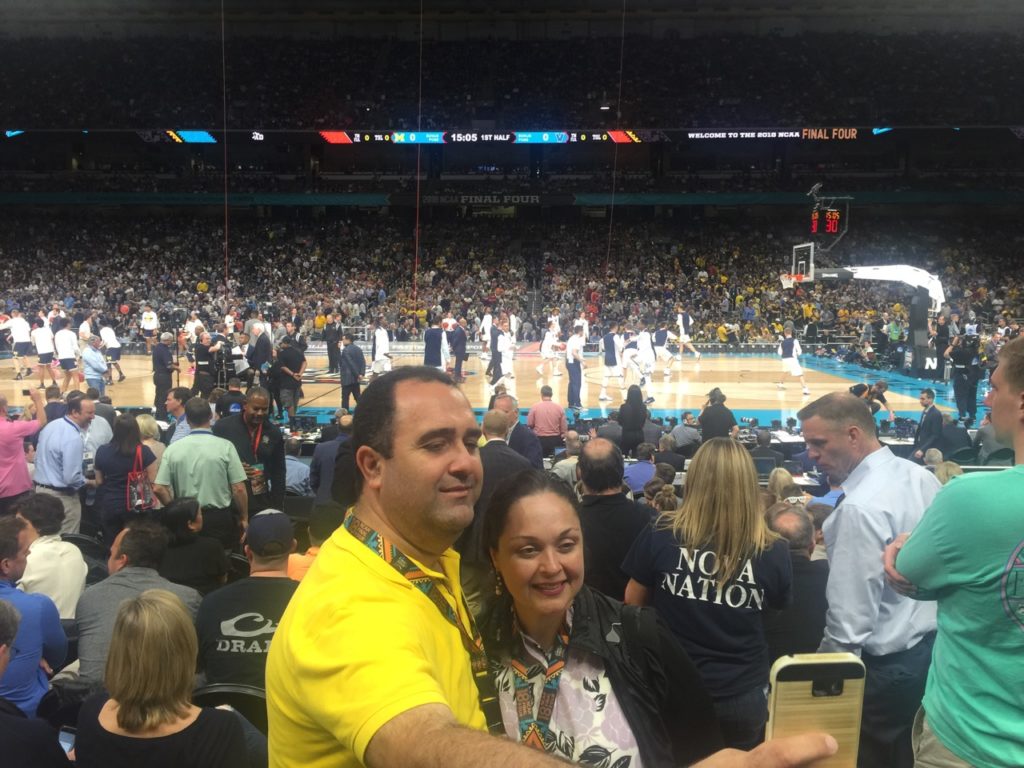 Courtside is selfie city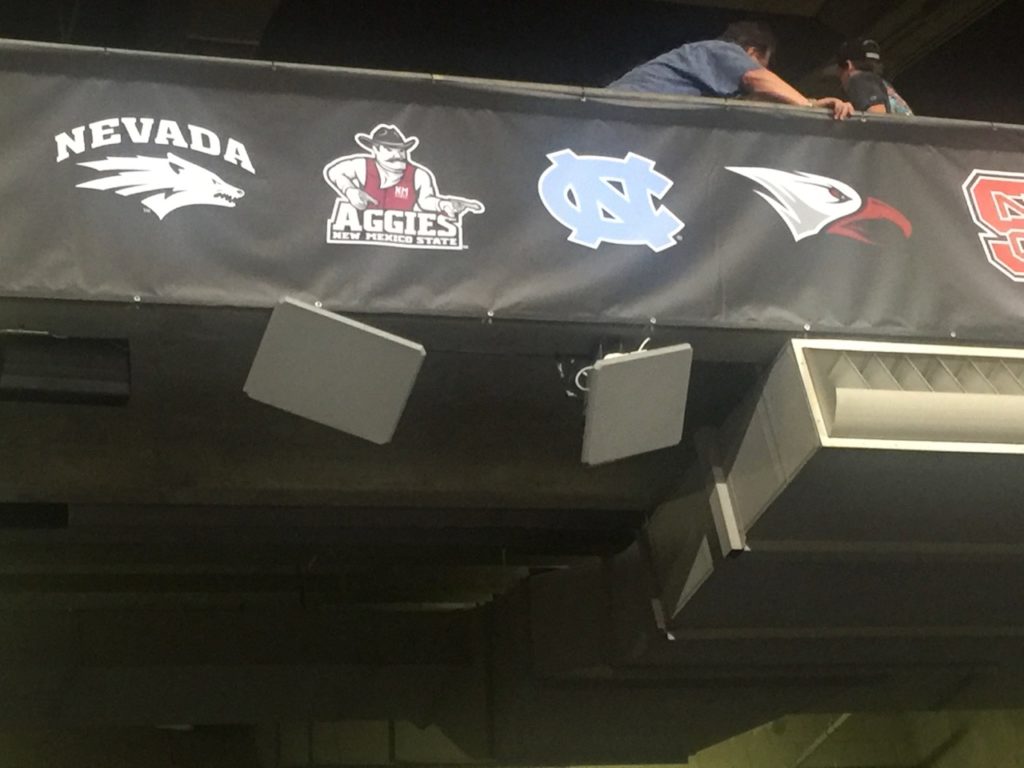 Gillaroos on overhangs in the permanent seating section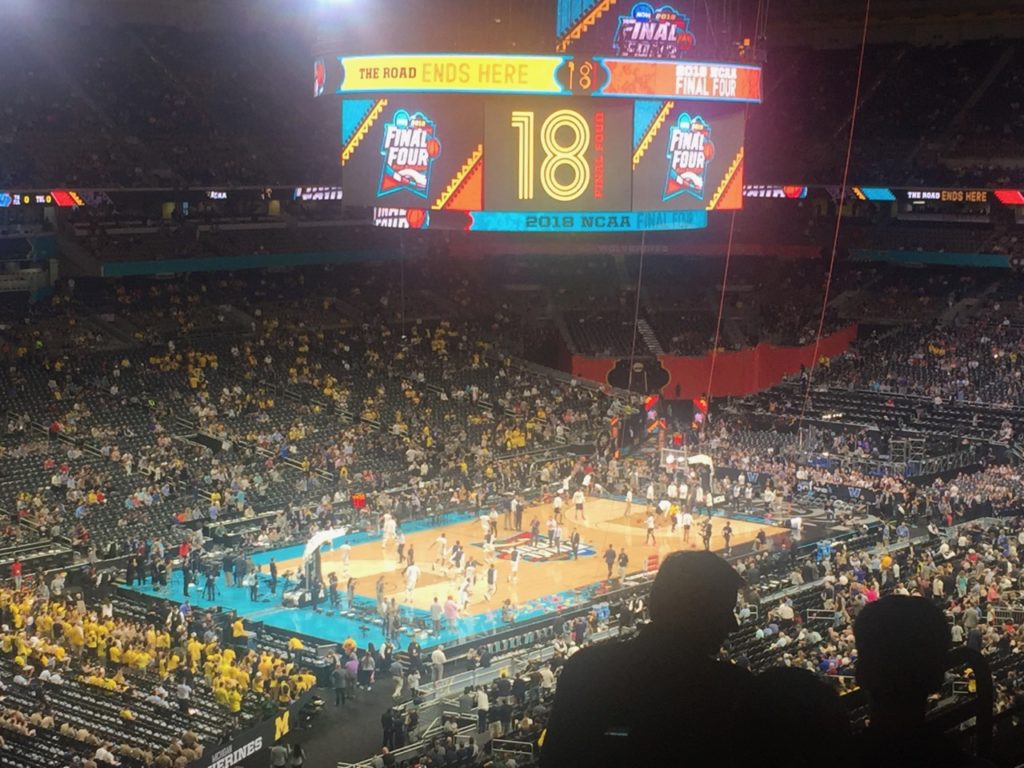 Zoomed in for a good look at the court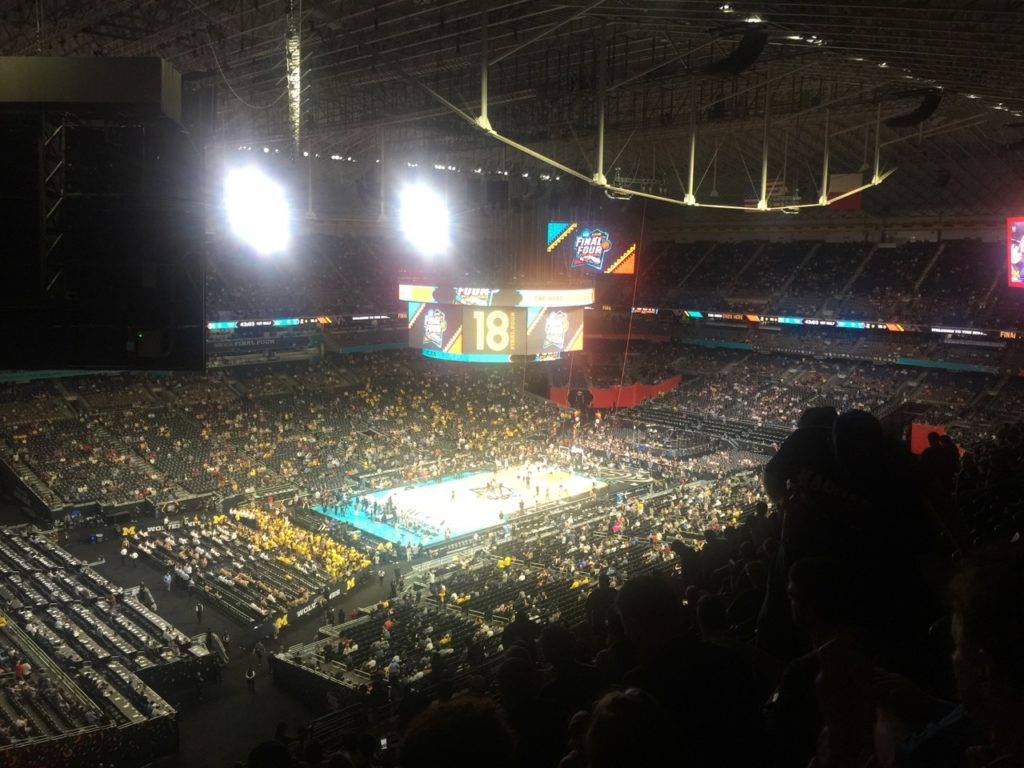 The human eye view from the same spot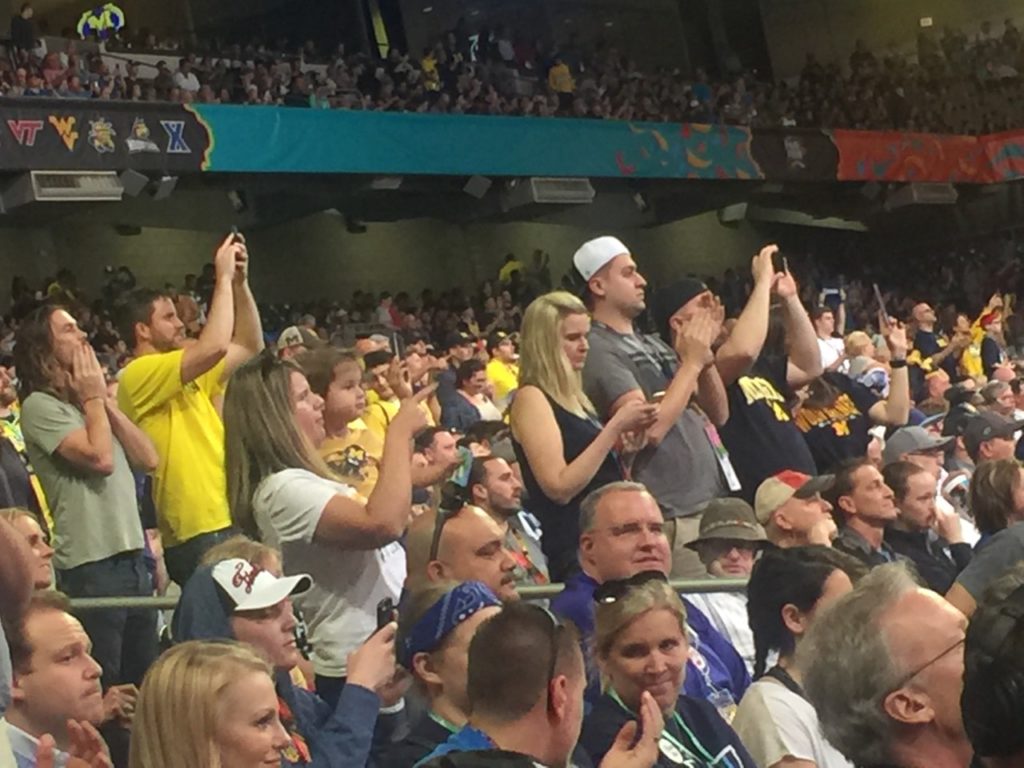 Picture taking is the primary activity pregame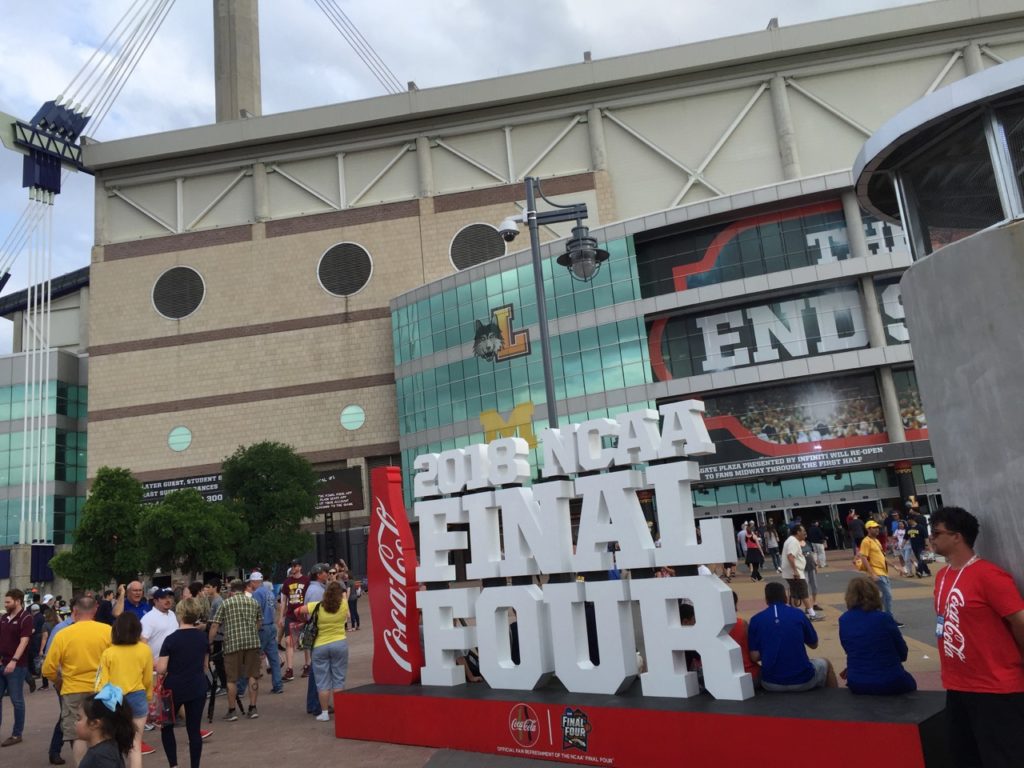 In case you forgot which event you came to see

SAN ANTONIO, Texas — The new and temporary Wi-Fi networks inside the Alamodome were as hot as national champion Villanova Monday night, with many speedtest marks in the 50-60 Mbps range for both download and upload throughout many points in the stadium.