According to statistics provided to MSR by Tod Caflisch, vice president and chief technical officer for the Vikings, the biggest data-use day was Sept. 18, 2016, during the regular-season home opener for the Vikings against the rival Green Bay Packers, a 17-14 Vikings victory. That contest also saw season highs for unique Wi-Fi users, with 31,668 fans connecting to the Wi-Fi at some point of the game day, and for most concurrent users, with 17,556 users connected at the same time. The 31,668 number represented a 49 percent take rate, with the game's reported attendance of 64,786.
Even though Caflisch said the Vikings didn't heavily promote the AmpThink-designed Wi-Fi network — which uses Cisco Wi-Fi gear in mostly handrail-mounted AP locations to serve the main bowl seating areas — the average take rate during the season was at the high end of numbers we've seen, with a 43 percent average over the two preseason and eight regular-season Vikings games.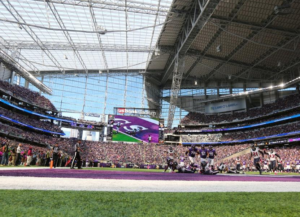 And even though the total data-used number only crested 3 TB one other time in the season — a 3.16 TB mark during a 30-24 Vikings win over the Arizona Cardinals on Nov. 20, 2016 — the average mark of 2.89 TB per game showed solid, consistent use.
Caflisch said that the Vikings and U.S. Bank Stadium were also able to correct the train-snafu issue that arose at some of the early events at the new venue, which has a light-rail station right outside the stadium doors. While some of the first events had big lines of riders and not enough trains, Caflisch said that during the season extra trains were held in reserve at the transit station that is close to Target Field (a few stops down the line from U.S. Bank) and then filtered in as Vikings games neared their end.
"We were able to clear the [train] platform in 40 minutes after the last game," Caflisch said. "The fans really loved the trains." (More U.S. Bank Stadium images below)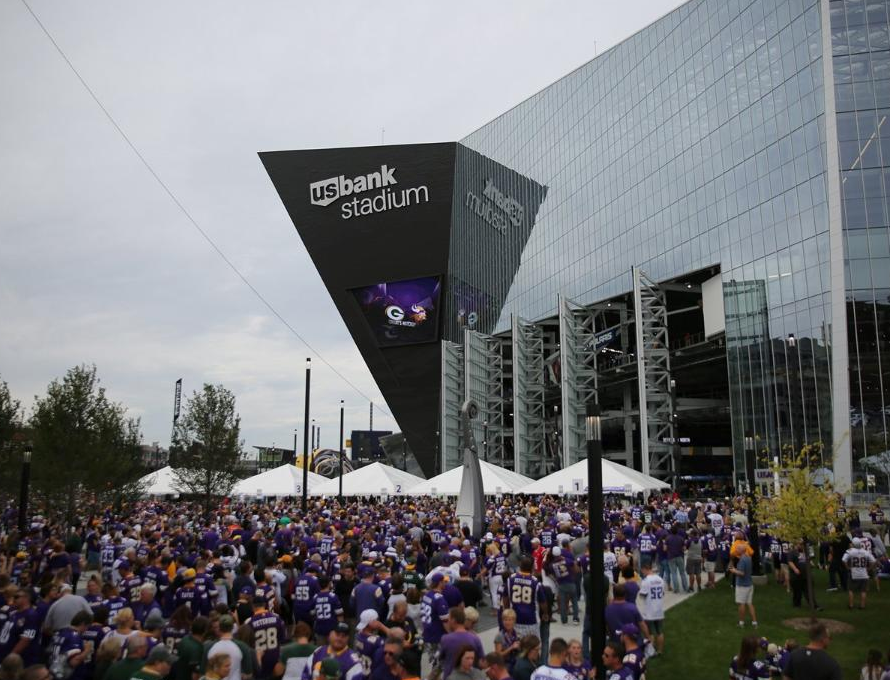 Vikings fans gather outside the stadium for pregame activites.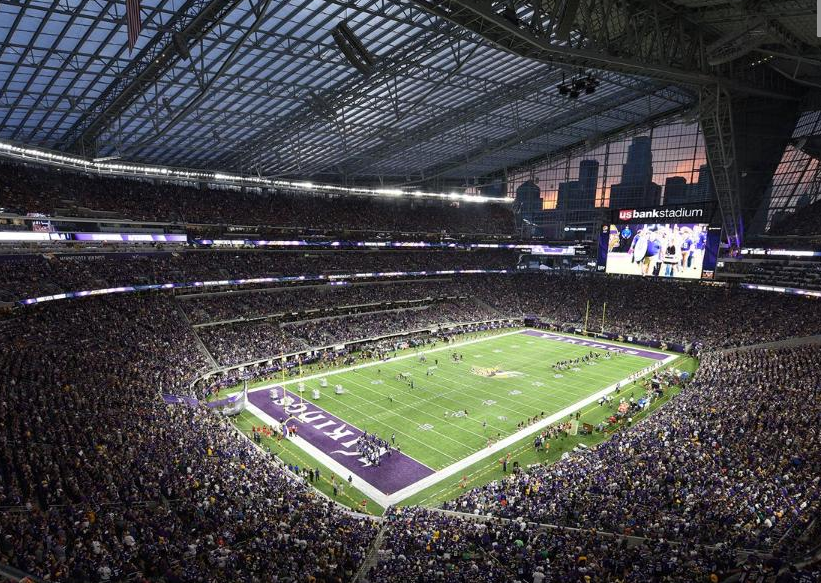 Great nighttime view with city skyline visible through windows.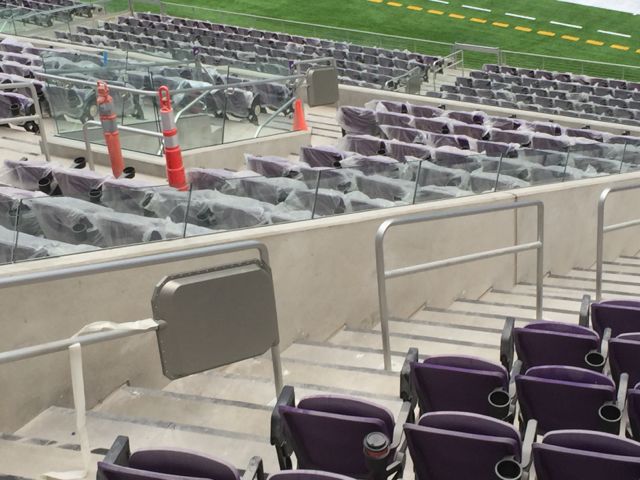 A look at the handrail Wi-Fi antenna mounts (this photo credit: Paul Kapustka, MSR)

While the football season may not have gone exactly to Vikings' fans wishes, the Wi-Fi network at U.S. Bank Stadium performed well during its inaugural NFL season, with a peak single-game data total of 4.32 terabytes used, part of a season average of 2.89 TB used during Vikings games.