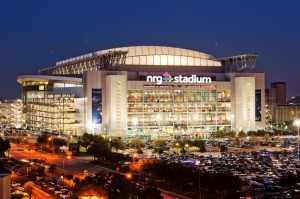 It took a long time, but wireless deployment firm 5 Bars was finally given the official approval as the company leading the installation of Wi-Fi at Houston's NRG Stadium, which is scheduled to host Super Bowl 51 in 2017.
Though construction won't be started until after the 2016 NCAA Men's Final Four — which also takes place at NRG — the network is scheduled to be completed in time for the next NFL season, according to 5 Bars. The only change from previous reports about this deal is that 5 Bars will be using Wi-Fi gear from Extreme Networks, and not Ruckus Wireless, apparently due to the NFL's preference to have gear it is familiar with at a Super Bowl venue.
Given the sensitivity of the process and the gear-switch outcome, and the timing of the holidays, it's perhaps understandable that calls and emails for comments to the stadium authorities, the NFL, and both Ruckus and Extreme have not yet been returned. The best we can guess is that with huge wireless demands expected at all Super Bowls going forward, the NFL — which gets extremely involved in Super Bowl venue preparations and management — didn't want to have to work with gear it was unfamiliar with for a "big game." Extreme, which has an exclusive-supplier deal with the league, is currently being used in nine NFL stadiums, though not in any that have recently held a Super Bowl.
Monnie McGaffigan, senior vice president for 5 Bars, who did confirm that 5 Bars originally submitted a joint bid with Ruckus for the NRG network, said 5 Bars remains "extremely happy" with the Ruckus gear it used in its Wi-Fi deployment at Angels Stadium in Anaheim. But now that the end result is a switch to Extreme, she said that 5 Bars is "getting ready to get boots on the ground" in January, doing local prep work for when the deployment will start in earnest at the home of the NFL's Houston Texans.
According to McGaffigan, the network will use approximately 1,100 Wi-Fi APs, with under-seat deployments used for a majority of the in-bowl APs. Backhaul for the network will use 5-gigabit Ethernet pipes that are burstable to 10 Gbps, McGaffigan said. Verizon Wireless, which runs the DAS at NRG Stadium, is also apparently going to have its own Wi-Fi bandwidth at NRG like existing deals it has in place at NFL stadiums including Green Bay's Lambeau Field and Seattle's CenturyLink Field.
For 5 Bars, the deal is a signature win, a big second step up from its Wi-Fi and DAS deployment at Angels Stadium. While McGaffigan said the small startup-ish firm based in Irvine, Calif., has some other interesting projects afoot — including wireless infrastructure for tollroads and downtown city areas — she said the company is "excited to win a big deal like this."