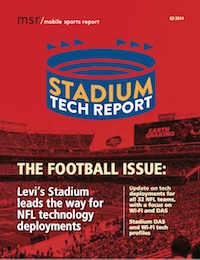 Mobile Sports Report is pleased to announce the arrival of THE FOOTBALL ISSUE, our third Stadium Tech Report for 2014. As the title suggests this long-form report focuses on technology deployments at U.S. football stadiums, with an extensive inside look at the technology inside Levi's Stadium, the new facility for the San Francisco 49ers. The report is available for free download from our site.
In addition to our Levi's coverage, the Q3 issue of Stadium Tech Report also includes team-by-team reports on all 31 NFL stadiums, with a focus on Wi-Fi and DAS deployments. Our research found that while there are still 10 stadiums without fan-facing Wi-Fi, there is a lot of innovation going around league-wide, including big new digital displays in Jacksonville and Dallas, and new Wi-Fi and app deployments in other facilities.
Included in the report is an exclusive MSR interview with Michelle McKenna-Doyle, the NFL's chief information officer, who talks about how the league office acts as a guide to helping teams with their tech deployments. We also have additional insight, analysis, and more tech profiles, and the good news is it is all free to read! Simply head to our report download page and get your free copy today!
We'd like to take a quick moment to thank our report sponsors, without whom we wouldn't be able to offer such extensive original reporting and analysis free of charge. Our list for the Q3 2014 report includes SOLiD, Crown Castle, TE Connectivity, Extreme Networks, Aruba Networks, Mobilitie and DAS Group Professionals.