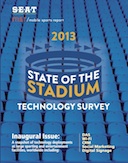 What is the "state of the stadium" when it comes to technology deployment? That is what we here at Mobile Sports Report set out to discover when we launched our inaugural "State of the Stadium" Technology Survey, in conjunction with our partner the SEAT Consortium, hosts of the recent SEAT 2013 conference in Kansas City.
With more than 50 respondents representing arenas that host the top professional league teams, including the NFL, Major League Baseball, the NBA, the NHL, as well as top U.S. university facilities for basketball and football, European and U.S. professional soccer teams, professional golf and car-racing venues the State of the Stadium Technology Survey provides, we think, the first real statistical snapshot of how teams are deploying technology to both improve the fan experience while helping increase business opportunities. The survey covers deployment and planning decisions for several stadium technology categories, including Wi-Fi, DAS, Digital Signage, Sports Digital Marketing, Sports CRM, and Sports Social Media. You can download a copy of the survey for free, at this link.
What did we discover? Simply, all survey respondents and interviewees were in violent agreement that advanced technologies, especially those involving wireless communications, would be the key to an enhanced fan experience and a bigger roster of business opportunities for stadium owners and operators. Yet for most of the industry, it is still early in the game when it comes to actual stadium technology deployments, as rollout schedules are still paced by the reality of budgetary and situational constraints, a list that often spans from geographic and facility-construction concerns to complexities of partnerships and rights agreements. So the era of the connected stadium is well on its way, but not quite here just yet.
There is a general feeling of a need to move quickly to solve the most pressing problems, while taking time on longer-term and bigger-ticket deployments to ensure the correct choice of technology at the right price with the right return on investment. These findings were confirmed at this week's SEAT Conference, which we were invited to attend, and we'll be sharing more stories from SEAT speakers and thought leaders in the following weeks. The best place to start, though, is by downloading the report to get a level-set on what is happening at the biggest facilities out there today.
Free download of the report is made possible by our report sponsors, SOLiD Technologies and Xirrus. We would also like to thank Christine Stoffel and Chris Dill from SEAT, as well as the SEAT attendee organizations who participated in the survey.