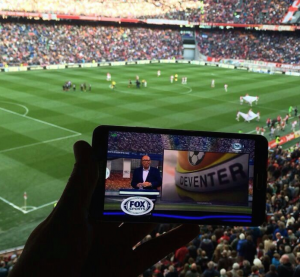 This one of the more nuanced press releases we've seen in some time, but there seems to be some meat behind the idea of IBM helping to design an LTE broadcast enabled stadium app for the Amsterdam Arena.
We've reached out to the principals and so far no luck getting anyone on the phone, but we did get some more email info so I think I can piece together most of the story. Basically it appears that IBM has a mobile development program that is called, somewhat obviously, MobileFirst. For the Ajax soccer team, which plays in the 53,052-seat arena (which holds 68,000 for concerts) IBM helped develop an app that uses LTE broadcast to show multiple live video screens, while also allowing fans to interact with the app, doing things like voting for player of the game.
LTE Broadcast support is the thing that makes this particularly interesting for us, since it would be a way to make live video work without having to have a Wi-Fi network. However there are no details about whether a carrier is actually supporting the app in this fashion yet, or if it is live and in use. Good first step, IBM, but you need to do a better job explaining this "news."
If you're not familiar with LTE Broadcast (sometimes also called LTE multicast), it is a development around the cellular standard that allows service providers and/or teams and stadiums to use select airwaves as "broadcast" channels, a tactic that can deliver video in a much more efficient manner than, say, thousands of fans hitting a web page and requesting their own individual video feed. The one-to-many concept of LTE Broadcast is being embraced by U.S. carriers as well, and Verizon Wireless, which showed demos of the technology during
Super Bowl week
, is supposed to be doing another demo this weekend at the Indy 500.
Cisco's SportsVision Mobile uses a similar distribution method (currently in use at the Barclays Center), but that technology takes advantage of in-building Wi-Fi. What's not clear about LTE Broadcast in a stadium situation is whether or not you need extra equipment, or whether existing DAS deployments can handle LTE Broadcast without modification. Also unclear is whether or not client devices, like smartphones and tablets, need modification to run LTE Broadcast enabled apps.
From the press release and the screen shots, the IBM app for Ajax looks pretty good, but again, we'd want to talk to the folks at the stadium to see if it's actually being used by real fans, or if this is still slideware. Anyone who lives over there who might go to the stadium, let us know if you know.