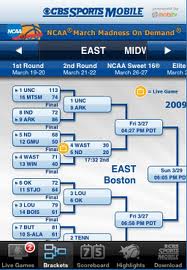 CBSSports.com has updated its mobile app with enhanced features that enables avid fans of the NCAA's March Madness tournament, and even just casual observers, to follow the tournament, get insight into games and map out their bracket strategy.
This is not its first shot at delivering an app for the tournament but the company has completely redesigned the program to provide an enhanced experience for people that follow the event on mobile devices such as smartphones and tablets as well as via a web site.
At the most basic level the redesigned CBS Sports mobile app provides instant access to brackets and access to insight from experts on which teams to pick, which as even the most casual fan knows is of all importance during the tournament, for bragging rights if nothing else.
However the app, available for both Android and Apple iOS device users is not just a static data program but provides a host of other features including featuring live access to all CBSSports.com bracket games (iOS users only), tweets from other game that are currently ongoing as well as updates and final scores as they are warranted.
It provides fans with several options in the area of brackets including allowing a user to enter the Bracket Challenge where a user can have as many as three brackets and competes with others who enter the event. There is also a tool called Bracket Manager that is designed to help create and manage bracket groups that you might want to form with friends or coworkers. For Users whose picking skills are similar to mine there is also something called Round by Round that permits fans to pick each of the six rounds, eliminating "busted" brackets.
For those who cannot wait for the tournament the app also provides coverage of this weekend's Big Ten Men's Basketball Tournament Semifinals and Championship on Saturday and Sunday.