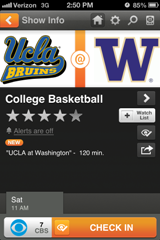 BuddyTV, a developer that creates apps that help provide television viewers with up to date guides of what is and will be on has updated its app to help viewers looking to chart out their March Madness viewing agenda.
With conferences just finishing their tournaments the NCAA selection committee will announce its selections on March 17 and then the chaos begins, along with the grousing about how tough your teams bracket is and how weak your arch rivals' bracket looks.
To help fans sort through the various channels and times that the games will be played BuddyTV has developed the March Madness Quick List as a tool to help fans find their way and not miss games that they want to see.
The feature, part of an upgrade to its mobile app that is available for Android and iOS devices, will list all the upcoming game air times, channels and stations in chronological order as well as the few remaining regular season games as well.
The app will update the schedule the day after games are finished to keep it up to date for users. It also has the ability to be customized so that fans can track the teams or conferences that interest them in the tournament including adding reminders in case you forget an important starting time.
The feature is part of the latest release of the free app that now has an updated user interface, a few bug fixes and support for Apple's iPhone 5, as well as performance enhancements that has made it a speedier app to use.
The app lists not only broadcast television but also cable such as Comcast and Time Warner as well as Dish, Netflix, Hulu, iTunes and Amazon. There is also a web site that features information on the tournament as well as television news, program spoilers and other listings.