First things first: The Ruckus-based Wi-Fi and its 500 access points functioned beautifully, as did the DAS network that Mobilitie helped engineer – more on that in our upcoming summer STADIUM TECH REPORT issue next month.
The freshly minted wireless infrastructure ensured attendees on opening day could Instagram the U.S. Navy paratroopers landing center field, trailing colored smoke out of their heels (black and yellow/gold, LAFC's colors, of course). Or the surprise appearance of comedian Will Ferrell (who also owns part of LAFC), balancing a hooded bird of prey on his wrist. Olly, LAFC's mascot, then hopped to the arm of its usual handler who released the falcon, thrilling the crowd with its gliding and swooping, completely unfazed by 22,000 fans and their cheers.
But for sheer endurance, raucous fans in the north stands put on the biggest show, beating drums, waving flags (Brazil, Argentina, Portugal, to name a few), and singing fight songs. The drummers kept things lively throughout the game, even if they were occasionally obscured by the yellow/gold smoke bombs set off at strategic moments.
At regular intervals throughout the inaugural game against the Seattle Sounders, the feeling was less southern California and more like one of South America's soccer stadiums.
The stadium is well named, if only because it has the sound and spirit of a giant cash register. Multiple establishments – Founders Club, Sunset Deck, Field Level Club, Figueroa Club, Directors Lounge – ensure no one goes hungry or thirsty. Luxury suites fill in the gaps. Down on the main level, LA's tastiest eateries (tacos, barbecue, Korean, shawarma, coffee, craft beers) have outlets and the lines were long on opening day. There are also the obligatory team merchandise and souvenir stands and season ticket vendors.
Making money is one goal for LAFC, but so is winning games. LAFC triumphed in its debut home game 1-0, thanks to a free kick by team captain Laurent Ciman. That's an auspicious start for MLS's newest franchise and its shiny newest stadium.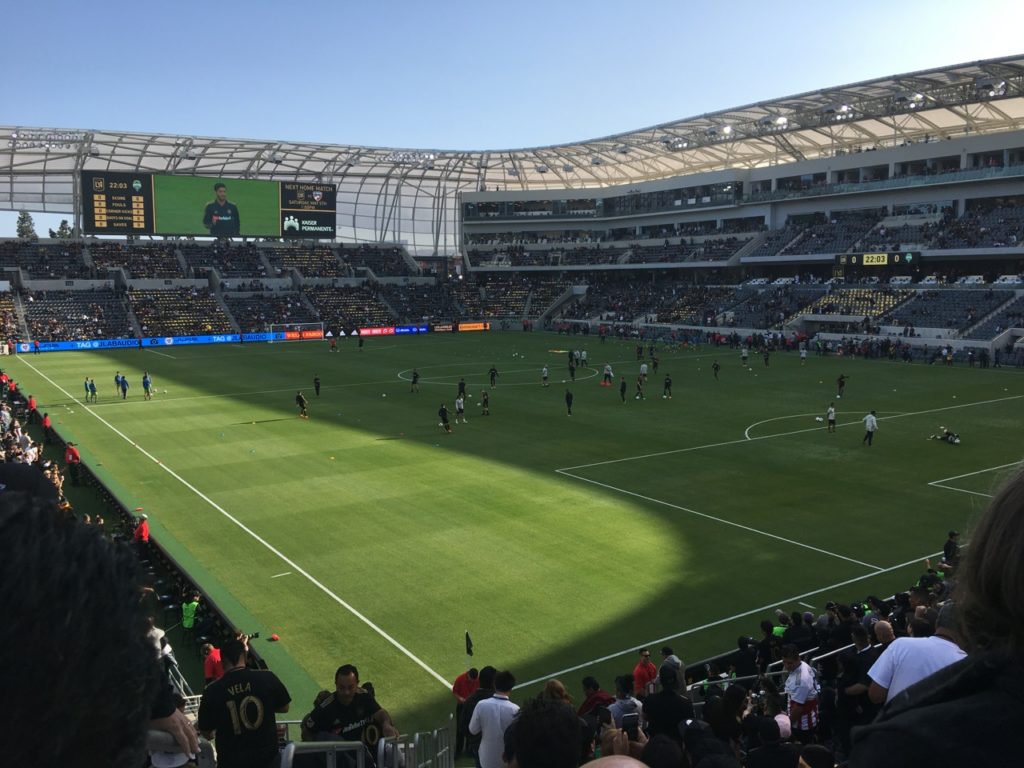 Video boards are big at Banc of California Stadium
Steep seating pitches and sun screens make this stadium fan-friendly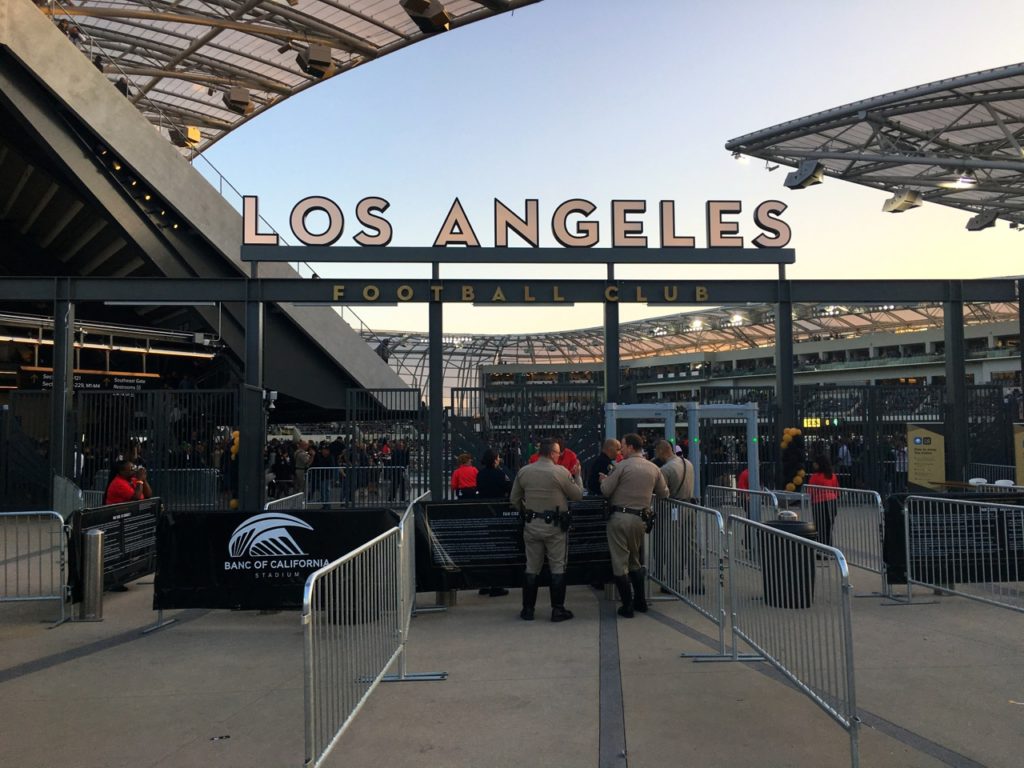 The entry to the newest stadium in the MLS

First you heard the booming bass of drums, then came the chanting of thousands ("FC!…LA!…FC!"). You may not see the Banc of California Stadium at first, but this aural GPS guides fans toward Major League Soccer's newest venue, which opened April 29 with expansion team Los Angeles Football Club. With a final price tag of $350 million (~$100 million over its original budget), the stadium is the most expensive for a soccer-specific venue.