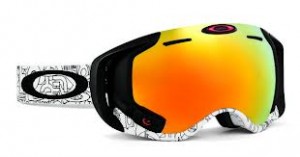 Looking for a ski accessory that can set you apart from your friends? Then you might want to look at the Airwave ski goggles from Oakley that have just hit the market and the glasses company has teamed with Recon to significantly enhance the goggles.
Oakley joins a number of Recon partners in creating goggles that provide an interactive skiing experience, but the company looks to be taking it one step further, by providing an app that will enable an Apple iOS device to be part of the equation, and will be available in select Apple Stores. There has been an Android app available for some time.
Airwaves have a $599 list, so that they will not be an impulse buy, at least for most. The goggles come loaded with the sensor and communications technology that has been the hallmark of Recon.
You are probably familiar with Oakley but maybe less so with Recon, which would be too bad. The company makes what it calls heads-up display technology, but that is a rather dry term for an interesting product family.
The company makes a technology that gives you real time stats and data, using your goggles to provide a backdrop for the information that can include your speed, distance traveled, vertical descent and a number of navigational data points from its built-in GPS. It is designed in such a way that when you are looking out skiing it does not interfere with your vision but by looking in a predetermined area it provides a host of data from the sensors that are part of the unit.
You can purchase a unit that is able to snap into a number of different vendor's goggles so that you are not limited to a single developer or style. They have the ability to connect to a smartphone and allow a skier to connect to incoming calls, view text messages or listen to music that is stored on the device. There is a remote that can be attached to gloves or the goggles themselves to control access.