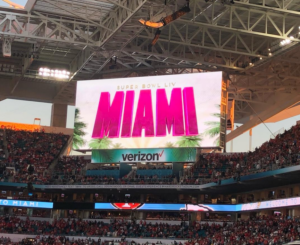 Verizon, which led the DAS effort at Miami's Hard Rock Stadium, said it saw 21.5 terabytes of data used on its network "in and around the stadium" during Sunday's Super Bowl LIV.
While we are still circling back with Verizon to see if we can get more granular details, we are guessing that this number comes from the network inside and immediately adjacent to the venue, and not the "2-mile radius" that other carriers are also reporting. We will update as we get more info. With AT&T's report of 10.2 TB inside/around the stadium and 14.5 TB in the two-mile radius, we are somewhere above 35 TB total of cellular traffic for the big game, even before we have any stats from other carriers.
We are also asking Verizon to provide a total number of users on the 5G network the carrier deployed inside the stadium, but don't hold your breath since total number of users is not a statistic carriers like to provide (as opposed to Wi-Fi stats, which almost always report the unique connections).
On an interesting note, Verizon said in an email to MSR that it saw 20.5 TB of data traffic on its networks around the stadium at Super Bowl 53 in Atlanta last year — as far as we know this is the first official number from Verizon about last year's Super Bowl, when Verizon declined to provide MSR with any post-game numbers directly after the event. According to the Falcons IT staff there was only 12 TB total of DAS traffic on the in-stadium network during last year's Super Bowl so the 20.5 TB of Verizon traffic must have included a lot of "around the stadium" traffic to get to that number.