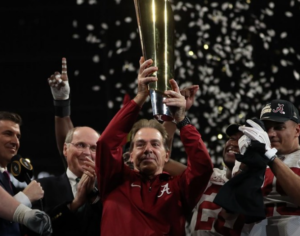 AT&T said fans on its network at Monday's college football playoff championship game at Mercedes-Benz Stadium in Atlanta used 2.5 terabytes of data, less than the 3.8 TB AT&T said it saw a year ago in Tampa.
If there is a reason for the decline in AT&T DAS usage during Alabama's 26-23 overtime win over Georgia, it may be due to the fact that Mercedes-Benz Stadium has a state of the art Wi-Fi network in addition to a neutral-host DAS. However, we have not received any Wi-Fi stats at all from any events held at Mercedes-Benz Stadium since its opening in August 2017, so our theory may never be proved. We do not currently have any DAS stats from other carriers besides AT&T. Attendance at Monday night's game was believed to be a Mercedes-Benz Stadium record, at 77,430.
The first big non-regular season NFL or college game at the new Mercedes-Benz Stadium had several snafus, including rain leaking in from the eight-petal moveable roof, long lines (out in the rain) for entry caused by security measures used for President Trump's arrival, and reports of crowded trains on Atlanta's MARTA system. There was even one complaint that Wi-Fi and cellular networks weren't working, making digital ticketing a problem.