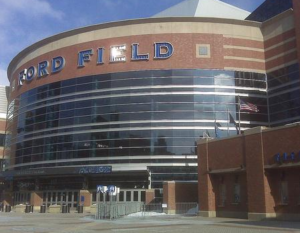 Verizon Wireless is upgrading the Wi-Fi network it originally installed at the Detroit Lions' Ford Field, but is keeping specifics about its upgrade to itself.
In a widely quoted press release Verizon said it is adding capacity to the Wi-Fi network it first installed at Ford Field back in 2013, a network that was only open to Verizon customers. According to a story in the Detroit Free Press, the new network (which won't be operational until the end of the current NFL season) will be open to all fans, not just Verizon customers. However, like in other stadiums, Verizon customers will be able to access the Wi-Fi over a separate SSID, Verizon said. The Ford Field upgrade joins other NFL stadiums getting a Wi-Fi revamp this season, including the Carolina Panthers, the New England Patriots, the Houston Texans and others.
Verizon would not answer questions about how many Wi-Fi access points the new deployment would have, instead only claiming that coverage would be "quadrupled" from the previous installation. Verizon also claimed it now has Wi-Fi networks in 11 NFL stadiums, but declined to provide a list of which stadiums have Verizon Wi-Fi. MSR has previously reported that the Seattle Seahawks' CenturyLink Field has a Verizon network, as does FedEx Field in Washington, D.C.. Verizon also claims it will install Wi-Fi in two other NFL stadiums this year, but again declined to name the stadiums.