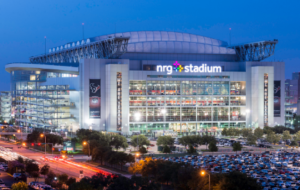 The Houston Texans gave their fans more to cheer about with a 16-9 preseason victory over the New Orleans Saints last Saturday, but what might have made a lot of people happy at NRG Stadium was the unofficial debut of the stadium's new Wi-Fi network, which was available in a sort of "soft launch" mode.
We say "sort of," because according to people who were at the game there was pretty heavy promotion of the new network's availability, with bandwidth sponsor Comcast distributing flyers in seat cup-holders as well as making in-stadium announcements about the wireless connectivity. NRG Stadium had been one of the few NFL venues without Wi-Fi, but with the Super Bowl headed to Houston at the end of this season installing Wi-Fi became a priority.
Starting after the Final Four concluded this past spring, integrator 5 Bars and Wi-Fi gear provider Extreme Networks got busy, eventually installing approximately 1,250 Wi-Fi APs inside NRG Stadium. According to 5 Bars representatives, many of the APs in the seating bowl were installed under the seats, a deployment method that is becoming a trend in larger stadiums.
Though we don't have any stats yet (since the network isn't really "officially" launched) we did hear from network sources that there was a good uptake on the system, and we are looking forward to watching the Wi-Fi's performance this season leading up to Super Bowl 51 in February. If any fans out there hit another Texans game anytime soon, send us a speedtest of the Wi-Fi!