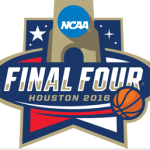 As the march toward the Final Four continued, fans at the Sweet 16 and Elite 8 venues for the men's NCAA basketball tournament used a combined 2.28 terabytes of data on the AT&T networks in those venues, according to AT&T. The highest weekend total came from games at the Wells Fargo Center in Philadelphia, where 680 GB were used, according to AT&T.
Combined with the 3.6 TB of data AT&T said was used on its networks at first- and second-round sites, that makes a total of 5.88 TB used so far on AT&T cellular and DAS networks at the various hoops arenas. We'd like to hear from other carriers as well, but none have contacted us so far.
Data totals at this weekend's Final Four in Houston should be interesting, since the host venue, NRG Stadium, doesn't yet have a Wi-Fi network. Both AT&T and Verizon have beefed up cellular coverage in and around the arena, but without Wi-Fi it may be hard for fans to top last year's total of 11 TB used at the Final Four at Lucas Oil Stadium in Indianapolis.
Remember — all Final Four games this weekend are on TBS, not CBS! Of course you can also stream the games if that's easier.