On the Seahawks.com site we found a good how-to story for fans going to the game, which included a link to this page, where we are guessing the Super Bowl stadium app will be available for download. Here is the boilerplate:
New for Super Bowl XLIX, the Super Bowl Stadium App Presented by Verizon aims to take the fan experience inside University of Phoenix Stadium to the next level. Features that will enhance Super Bowl ticketholders' experiences include exclusive in-stadium video content such as Super Bowl commercials and replays from four different camera angles, stadium seating and concession maps, once-in-a-lifetime gameday opportunities visible only to fans inside the stadium and the option to receive up-to-the-minute gameday notifications. Available on iOS, Android and Windows. Goes Live 23rd January 2015
(Looks like the app is already available in the App Store and in Google Play, but nothing is live; we downloaded the app and the only three buttons available, for highlights, commercials and memories, all say they will be available on Feb. 1 at the stadium, so no idea what the "goes live" on the splash page above means yet.)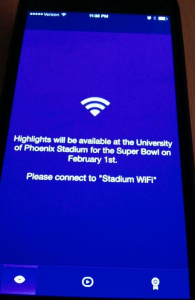 YinzCam founder and CEO Priya Narasimhan had told us earlier this year that a Super Bowl app was in the making, and apparently it will contain features found in some of the latest YinzCam app deployments, such as the Seattle Seahawks' new stadium app, which has multiple camera angle replays. The Super Bowl app is different from the Arizona Cardinals' regular stadium app, which was also built by YinzCam, which also features instant replays.

We were able to download the app for iPhone (it's free) and apparently you will need to be connected to the stadium Wi-Fi (which has the clever SSID of "Stadium WiFi") in order to view highlights and other video options.

The good thing for fans at the big game, there will be plenty of networking horsepower to keep the app running, no matter where you are. If you're inside the stadium there is a new Wi-Fi network and a refurbished DAS deployment to keep fans connected; stay tuned next week for our big breakdown of DAS deployments and carrier plans to keep the Super Bowl crowds super-connected.

We've been waiting for official word on what the YinzCam-developed app for the Super Bowl will look like, and though there's no press release the page where we are guessing it will eventually be available is offering some details, like the availability of instant replays from different camera angles, video of Super Bowl commercials, and stadium maps.